This easy four seasons tree craft is perfect for any time of the year and is an easy way to get kids thinking about the different seasons.
We've used cotton buds for this activity and our free template meaning that as well as being really easy it's a super cheap activity to do with your child too!
Four Seasons Crafts
Four seasons crafts are great if you're learning about seasons or just if you fancy something nice and easy to make with your child.
They're a great excuse to look at colours too and we've always used it as an excuse to actually get outside and see what things look like right now.
Of course there are lots of ways that you can make seasonal crafts, a sun for summer and a snowflake for winter for example, but tree crafts work really well for this because you're looking at how one things changes over the seasons of the year.
And of course having it all printed out ready on one piece of paper helps too!
Using cotton buds (also known as a cotton swab or Q-tips) is good for fine motor skills so this is a great activity for  preschoolers and kids in the early years of school.
While I've used cotton buds for this activity you could easily change it to  pom poms or cotton balls if that's what you have at home.
This is a super easy craft to make but I'm sharing a little video with you of it in action so you can see what it looks like. Sometimes I find it easier to show my kids a quick video too so they know what we're up to.
You can also check out another way to make some four seasons art using this template with our four season tree painting idea.
We've got loads of free templates for kids crafts so if you enjoy this activity make sure you check them out, each has it's own ideas for activities to use with the template.
Free Four Seasons Tree Template
Our printable four seasons tree template is free to use and you can print as many copies as you like. In the article you'll also find more tree painting ideas for you to try so make sure you check them out too.
The template is available with both US and UK spellings so you can choose the one which suits you.
If you'd rather make larger tree crafts check out our free tree trunk template, you could print out four of these instead which would be great for a display.
Four Seasons Craft
Grab our free printable to make this easy four seasons tree craft.
Print
Pin
Rate
Materials
Four seasons tree template

Cotton buds (Q-Tips)

Kids paint

Green, pink, yellow, red and blue.
Instructions
Print your four seasons tree template.

Squeeze your coloured paints onto a reusable plate so that they are easier to access.

For the spring tree dip your cotton bud in the green paint and then use this to decorate the tree. Dab another cotton bud in pink paint and use this to make the pink blossom on the tree.

For the summer tree just use green paint to make your leaves.

For autumn use red, yellow and green paints to decorate your tree. You can also use orange paint or mix one from your red and yellow paints as I have.

For winter add a few bits of blue paint to your tree.

Your four seasons craft is complete!
Notes
While I've advised putting paints onto a plate to make them easier for your child to access, you'll notice if you watch the video that for the pink paint I get paint directly from the pot as it's only a small pot and this helps reduce waste. Go with what works for you.
Tried this?
Mention @craftsonsea - we'd love to see and maybe share it!
More Kids Crafts with Free Templates
There are loads of free craft templates on Crafts on Sea and with each one you'll find lots of ideas on how you can use them. These are some of our favourite crafts we've made using our templates!
Try out some of our rainbow crafts for kids I love the cotton wool clouds!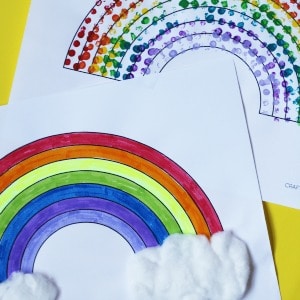 No matter what the season is my daughter loves hunting around in the garden for things she can use for crafting with. With that as an inspiration I've shared an easy butterfly craft using natural materials with some beautifully colored leaves.
Grab our rain cloud template to make these sweet rain crafts for kids.