Perfect for learning about the seasons and weather this four seasons tree painting idea is easy for kids to make and uses our free template to make it simple for you to set this activity up.
Learning about the seasons is fun, but I know that for my kids any subject is a bit more interesting when they get to do something creative about it!
We've created loads of tree crafts over the years with ideas for each season, but if you'd like to create something that shows all the seasons on one page then our four seasons crafts are perfect.
What You'll Find on This Page
Four Seasons Tree Painting
This idea is perfect for making some easy crafts with your child and as you can use our free  template too it's perfect if you want to make this in a preschool or classroom, after all no one wants to draw out that many trees themselves.
This is also a great craft because it uses really cheap materials which you'll either have at home already or should be able to get hold of easily.
Want to create something a bit bigger? Just grab our free tree template and you can make each of your seasons on a separate page instead but we love having them all on one page for this.
For some more four seasons project ideas you can also check out this four seasons tree craft or you can watch a quick video of the tutorial on this page.
Free Four Seasons Tree Template
Want to use the same template that we have for this craft? All you need to do is grab our free four seasons tree template.
The template is available with both UK and US spelling so you can choose the one which suits where you live.
Four Seasons Art Materials
Four seasons tree template (see above)
Sponge
Cotton swab or cotton buds
Plate or tray
Kids paints in red, yellow, blue, green and pink
How To Make Your Tree Art
Pour some of each colored paint onto your plate or tray and print out your four seasons template. You can of course just draw the trees on a piece of paper yourself but I find using a template makes it easier.
Dab your sponge into the paint and then dab it onto the corresponding tree to paint the leaves, so for spring and summer you'll be using the green paint, for fall use green yellow and red and for winter use the blue paint. You can of course opt to keep the winter tree blank instead.
You will probably find that it helps to use different sponges for each paint so that they colors don't mix (with this obviously not being an issue for fall.)
You can then dab your cotton bud in the pink paint and use it to make pink dots on your spring tree.
More Seasonal Crafts for Kids
We've got craft ideas for every season – plus lots of free templates to help you make them too!
These rain crafts are great for spring (or, ahem, British summertime) and the cotton wool looks really effective for the clouds.
Rainbow crafts are another one that work well all year round and they're really cheerful too!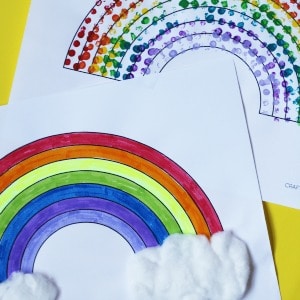 Materials
1

Four seasons tree printable

Coloured paint

Green, pink, red, yellow, blue

Cotton bud / Q-tip
Instructions
Print out the four seasons tree template and pour a little of each coloured paint onto a plate.

Four the spring and summer trees dip your sponge into the green paint and then dab it on the branches to colour them in.

To finish the spring tree dab the end of a cotton bud (q-tip) into pink paint and dot this onto the tree to make some blossom.

For the autumn / fall tree dab the sponge in red, yellow and green paint and use this to colour in the tree.

Four the winter tree dab the sponge into blue paint and use this to decorate the tree.
Notes
Instead of the pink paint for the spring tree you could use white if you prefer.
For this craft I used a normal bath sponge but cut it into smaller pieces to make it easier to use. You may also find it easier to have a different piece of sponge for each colour so that they don't run. (The exception here being for the fall colours.) They can be washed and stored for using again afterwards.
Tried this?
Mention @craftsonsea - we'd love to see and maybe share it!