Looking for a free printable cow template? We've got you covered with two designs that are perfect for kids crafts.
You can use our PDF as a cow coloring sheet with your child or we've shared some cute cow craft ideas that you can try out.

RELATED POSTS Free Templates for Kids Crafts
Free Cow Template
This cow craft template is a fun way for kids to learn about farm animals and helps make it easier for you to set up activities to do together.
There are two different designs that you'll find in the PDF bundle, the first has a basic design that's perfect for adding your own details to while the second one also includes horns, a bell and some markings on it's body. You can use them both or just print the one that you prefer.
Free Farm Templates
We've shared lots of templates for painting or kids crafts because they're such a great way to help get activities ready either at home or in a classroom.
If you're looking at farm crafts why not check out some of our other templates which would work perfectly for a farm theme.
Cow Craft Ideas
Coloring
Coloring is normally the quickest and easiest activity to set up for kids so it's perfect if you're in a hurry or just want a simple quiet time activity to do together.
All you need to do is grab your favorite crayons, markers or coloring pencils and you're ready to get started.
Torn Paper
Tearing paper is a great alternative to a traditional mosaic and it works perfectly for creating a cow craft.
Grab some construction paper or old scrap paper and tear it into pieces, then glue them onto the blank cow template. You can either use this to color in the whole of the cow or just to make markings on it.
Sponge Painting
Painting is always a popular activity for kids and sponge painting is a great alternative to just grabbing a paintbrush.
Simply pour some paint into a plate or dish and dab a sponge in it before using it to dab on your cow to paint it. Sponge painting is also a good one for kids as you can cut the shape of the sponge with scissors so that it's better size for your child's hands if you like.
Play Dough Mat
This template would be great for using as a play dough mat. Simply choose the printable you wish to choose, I think the blank template would be best for this and print it out. If you want to use it more than once then I'd rfeccomend that you laminate it.
You can then use your play doh to 'color in' your cow, this would be great for making the colored markings on Friesian cows.
More Farm Animal Crafts for Kids
This easy sheep craft is perfect for preschoolers and younger kids to make with it's simple painting technique.
Paper plate crafts are always popular with kids and this pig craft uses leftover shredded paper for a simple activity.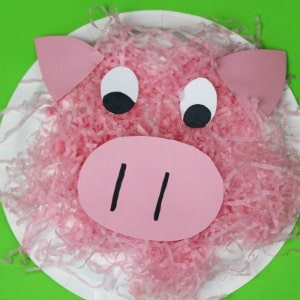 We've also got a paper plate cow craft made using pom poms.
How To Get and Print The Template
To get your free cow templates just subscribe below in the box. We won't send you spam and you can unsubscribe at any time.
Once you've confirmed your email address your template will be delivered to your inbox as a free gift.
Please make sure to check ALL your email folders for the confirmation email and make sure you press the confirm subscription button.