We love farm animal crafts and this paper plate cow craft is so easy to make it's a great one to try out with your kids.
Using paper plates for all the different parts of the cows face means that you won't need to worry about looking for bits of paper or card to match the main part and the black splodges are fun to make with our printing materials.
Using pom poms for printing means you don't need to worry about your cow looking Pinterest perfect, wherever your paint lands is exactly the right place it's meant to be!
I have included links to affiliate programmes in this post if you click on these and buy I may earn a small commission. Affiliate links in the text are marked with an asterisk.
As well as this paper plate cow craft today I'm sharing some fantastic looking farm animal books for kids and some of our favourite farm animal crafts that we've made.
Like this craft? Make sure that you bookmark this page or pin an image so you don't forget about it!
What You'll Find on This Page
Farm Animal Books for Kids
We love any excuse to read and share a story and these books about farms and farm animals all look fantastic!
Equipment
Double sided sellotape

Pom poms

Reusable plate

Black paint

Yellow Paint

Black pen
Materials
2

Paper Plates

Pink paper or card
Instructions
Pour some black paint and yellow paint onto a reusable plate.

Dab a pom pom into the black paint and then dab this onto one of your paper plates to make the cows' black markings.

From the second paper plate cut out the shapes for the cows ears, horns and eyes.

Add black marks to the cows ears using your pom pom and the black paint.

Paint the cows horns yellow using another pom pom and your yellow paint.

Using your black pen, draw dots in both the eyes to make the pupils.

Cut out a large oval from your pink paper.

Draw on two vertical lines to make the cows nostrils and then add a horizontal line for the cows mouth. A smile is always good here!

Once the paint on your paper plates has dried stick on the eyes, ears and horns using double sided sellotape. You can use normal glue for the pink part of the face but the sellotape will work better for the more unusual shape of the paper plates.

Your cow craft is now finished!
Notes
Don't have any pom poms? You could use an old washing up sponge instead.
If you run out of room on your second paper plate to cut out any of the ears, horns or eyes you could use white card or paper instead.
Tried this?
Mention @craftsonsea - we'd love to see and maybe share it!
More Farm Animal Crafts:
We love this super easy sheep craft for kids that uses pom poms too.
My daughter made this easy chick craft as well and it was a huge hit with her.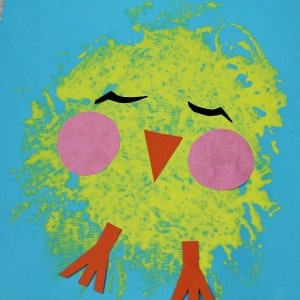 Grab some shredded paper and make this paper plate pig craft.