We've been big fans of Julia Donaldson's What The Ladybird Heard series so I was excited to hear that there was a new book out in the series and as we enjoyed it so much I thought it would be good to share some easy What The Ladybird Heard at the Seaside activities too.
In this post you'll find resources and ideas for ways to extend this activity, with crafts and free printables you can use.
As well as ladybird crafts and activities you'll also fine ones for Hefty Hugh and Lanky Len, the mermaid and her friends in the sea with sharks, crabs, whales and a sealion.
I've previously shared some What The Ladybird Heard activities for the original book so you could always check that out too.
What The Ladybird Heard At The Seaside Activities
I made this paper plate What The Ladybird Heard craft with movable parts that mean you can hide away a little drawing or bit of writing too.
Grab our free What The Ladybird Heard wanted poster and draw a picture of Hefty Hugh or Lanky Len. We've left a bit of room if you'd like to add some writing too.
Of course for this particular book we have to include some mermaid activities! I love this paper plate mermaid from Red Ted Art which comes with a free printable, my daughter has made this craft previously and it was a big hit with her.
Why not make some story stones to help retell the story? These ones are sea themed and you could easily add stones with a mermaid, ladybird and any other of the characters from the book.
Pan Macmillan have shared some What The Ladybird Heard at the Seaside printables that you can get at their site including a wordsearch, a maze and one t help practice drawing skills.
This shark craft can be used as a puppet too.
Make a simple sea lion craft following this tutorial from Mess For Less.
My kids made this simple paper plate crab craft using torn paper.
We made this orca paper plate craft, just change the colours to make it look more like the whale in Julia Donaldson's book or you might like to check out our Snail and The Whale craft with a movable whale for more inspiration.
This ladybird craft was made by my daughter when she was a toddler.
Make a simple paper plate sea collage.
My kids loved sensory play but I must admit that I was a fan of the ones that were pretty quick to set up! This ocean themed sensory play fits the bill and as long as you have a dustpan and broom it was really easy to clean up afterwards too!
More Activities for Julia Donaldson Books
This The Scarecrows Wedding craft can be used as puppets as well.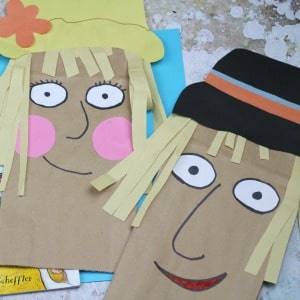 Make an easy sensory bin for Superworm.