Not only is it super cute but this handprint Mother's Day Card makes a great keepsake too. You could even gift mom a picture frame too so it can be displayed later!
Our flower pot Mothers Day card template has six different designs so that you can choose the one that's right for you and it's free to download too!
What You'll Find on This Page
Handprint Mothers Day Cards
I love handprint crafts and these Mother's Day cards are really sweet but they're also really quick to make.
All you need to do is print out the design that you like the most, grab some paint and you're ready to get started creating a handmade card that any mom would treasure.
Mothers Day Card Designs
All of these card designs are available in the PDF file, you can print them all or just print the ones that you want.
The first four are the most suitable for Mother's Day while the final two would also be great for giving to teachers.
Black and white outline of a flower pot and flower stem
Colored drawing of a flower pot and flower stem
Black and white outline of a flower pot and flower stem with 'Happy Mothers Day' text
Colored drawing of a flower pot and flower stem with 'Happy Mothers Day' text
Black and white outline of a flower pot and flower stem with 'Thank You For Helping Me Grow' text
Colored drawing of a flower pot and flower stem with 'Thank You For Helping Me Grow' text
What Age Are These Mothers Day Handprint Cards Suitable For?
Because these cards are make from a sheet of paper or cardstock folded in half they are most suitable for younger kids because of the area available for their handprints.
I would recommend using these cards for kids aged between one and three, but you may find that some slightly older kids are able to use these too, it will of course just depend on their size!
For comparison, the first image below is done with a handprint from a one year old while the second child's handprint was made by a three and a half year old.
Craft Supplies
Handprint Mothers Day card template printed onto white card stock
Paint
Paintbrush or plate
Cloth or wipes
Flower Pot Handprint Card
Making these cards is so simple! the first thing you need to do is choose the template that you want and print it onto white cardstock.
Use cardstock rather than paper if possible because it is less likely to become saturated from the paint and also means that your card will be able to stand up more easily.
Take your child's hand and cover it in paint. You can do this by pouring some paint onto a plate and dipping their hand into it but I normally find that the best results come from using a paintbrush and painting their hand instead.
Another option is the paint pads which are created especially for handprint crafts and finger painting. We've used these before at a Sunday school session and thought they were fantastic!
Carefully place your child's hand down onto the card so that their handprint forms the flower shape. Sometimes I find that it's good to have a practice go with this if I think my kids are going to get worried about doing something wrong or if you just want to check out the best way to do it.
While you don't need to have a cloth or wipes for this craft, you could just get your child to go straight to wash their hands afterwards, I think they're a really useful thing to have to hand.
This definitely comes under the heading of 'better to have and not need than to need and not have' so that you can quickly get the most of the mess off paint covered hands if you need to.
Once your flower handprint is dry you can fold your card in half and write a sweet message inside or you could look for some Mother's Day poems to add.
More Free Mothers Day Printables
I love sharing free printables on this site because it helps parents and teachers to do something creative and fun with their kids without having to spend a ton of money.
We have loads of different activities available but these are perfect for Mothers Day.
This Mothers Day card to color in also has a cute flower pot design and is in 3D so it can stand up!
You'll need to grab your glue, scissors and of course some marker's in mom's favorite colors.
There are three different designs for this free card including one that is blank so you could add a drawing or even your kid's photos.
You can also grab our free Mothers Day coloring page. Coloring is always one of the most easy crafts that kids can do (and the least messy!) and you could even put your finished sheet in a frame for a great gift.
I love our new fingerprint Mothers Day cards too!
Need more ideas? Grab your markers, glitter and construction paper and check out our favourite ideas for Mothers Day crafts for loads more diy Mother's Day gifts and card ideas suitable for toddlers and preschoolers.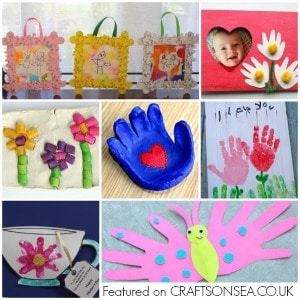 How To Get Your Free Printable Handprint Mothers Day Cards
To get the cards in the correct size for your area just click on the links below. Please note that these cards are for personal use only or for use in schools or preschools.
Click here to get the cards in UK A4 size.