Whether you're looking at making some crafts for summer, for a fruit and vegetable theme or if you're learning about the letter P, this free printable pineapple template is the perfect way to do it while encouraging some creativity in your kids.
There are four different designs that you can download so no matter if you want to use this as a pineapple coloring sheet or as the starting point for an art project there's a design to help you.
The PDF file is free to download and you can print as many copies as you like so it's great for using in a preschool, kindergarten or classroom as well as at home.
What You'll Find on This Page
Pineapple Template
My kids love pineapples and for me they're really evocative or hot summer days with trips to the beach or barbeques. They just don't taste quite the same during winter do they?!
With four different designs this pineapple template can be adapted to make some fantastic craft projects from p is for pineapple craft to creating some gorgeous art.
From starting with a basic outline each picture has slightly more detail until you reach the one you can see in the picture above, just choose the one that suits you.
Pineapple Craft Ideas
Pineapple Coloring Pages
These large pineapple templates make great coloring sheets. All you need to do to prepare this activity is print your favorite design out and grab some coloring pencils, markers or crayons and you're ready to get coloring.
Bubble Wrap Pineapple Craft
Bubble wrap is a great material for painting your template with and it makes a fun alternative to using a paintbrush so this would make a great pineapple craft for toddlers and preschoolers.
Pour some paint onto a plate or tray and dab your bubble wrap into it before dabbing it onto the pineapple shape to color it in.
Because this has the potential to be quite a messy craft what I tend to do is use tape to make the bubble wrap into a little pouch shape that kids can put their hand inside. This way they can have a lot of control over how their painting goes and feel the gooey aspect of it without getting too messy. Well hopefully at least!
If I'm doing a craft with my kids which includes a lot of paint or glue then I tend to print my templates onto cardstock rather than printer paper if possible to help prevent them becoming over saturated.
Natural Materials
I love using natural materials with templates like these because they're both a great way to encourage your kids to get hands on looking for craft supplies (go take a look around your backyard!) and a great way to add some texture to your picture as well.
If you haven't tried this before then why not check out our butterfly craft with natural materials but in essence put some double sided tape onto your picture and then add natural materials to color it in. Obviously supervise kids while they are looking for materials to use so you don't end up with holly leaves or your prize roses.
Green leaves would be great for the leaves of your pineapple while moss or bark would be great for the pineapple's main body.
More Fruit and Vegetable Themed Free Templates
I've shared loads of free templates on this site as an easy way for you to start craft projects with your kids or for using as coloring pages.
We have ideas for every pretty much every theme you can think of so do take a look through but these are some of my favorites with a fruit or vegetable theme.
I love this watermelon template which is perfect for summer activities too and it's one that we've used in crafts here before as well.
This pumpkin template is one that can be used for a lot of other themes as well – Thanksgiving, fall, harvest and of course Halloween!
This apple template is another that's perfect for fall crafts as well and you'll find loads of ideas for how you can use it.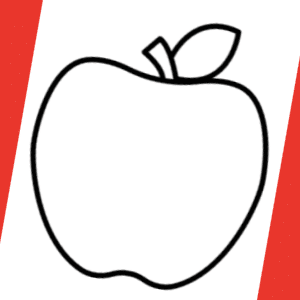 How To Get Your Free Printable Pineapple Template
To get your free printable pineapple templates just subscribe below in the box. We won't send you spam and you can unsubscribe at any time.
Once you've confirmed your email address your templates will be delivered to your inbox as a free gift.
Please make sure to check ALL your email folders for the confirmation email and make sure you press the confirm subscription button.