I think I've got a bit rabbit craft obsessed in the lead up to Easter this year, I told myself I wouldn't share any more but then….I saw some paper bowls in our kitchen and I couldn't help myself! In fairness this paper bowl rabbit craft is too cute not to share and it's nice and easy for kids to make too, perfect for getting in the mood for Easter.
Paper bowl rabbit craft materials:
Paper bowl
White card
Pink card
Black card
Scissors
Glue
Black pen
Let's make it!
Start by cutting your rabbit's ears out of white card and then cut the same shape but smaller out of pink card to make the inner ear. Glue the pink card onto the white card and then glue your rabbit's ears onto your paper bowl. Next cut a triangle out of black card for your rabbits nose and then cut three long strips of black card for its whiskers.
Glue these into the centre of your rabbits face and then using a black pen draw on a mouth and eyes. As an alternative you could use googly eyes or cut some out of black card but I quite like the ease of just being able to draw them (plus it makes it much easier if you want to do what my daughter calls 'girly eyes'!) You're paper bowl rabbit is all done!
If you like this craft make sure that you bookmark this page or pin the image below so that you have this idea to hand when you need it! Want more Easter crafts for kids? My daughter loved making this sponge chick craft.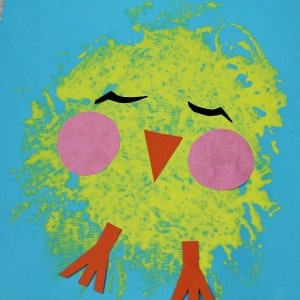 Or how about this round up of sheep and lamb crafts?
Finally this round up of Easter activities for toddlers has over 40 ideas so there should be plenty to keep the entertained.