You want to know the truth? I have no idea where bunny butt crafts come from. I mean, I know that it's nearly Easter and that, you know, rabbit have botttoms but to why or how bunny butts became a 'thing' I don't have a clue. What I do know though is that my Pinterest feed is full of bunny butt cakes and cookies right now and as my kids find anything that sounds remotely rude absolutely hilarious I thought I'd make this fun little doily bunny butt craft.
Bunny butt craft materials
Doily
Cotton wool
White card
Pink card
Scissors
Glue
Let's make it
This is such a simple craft to make that it's really easy to put together but it's still a really fun idea for Easter! First cut out your bunnies foot shape from white card and then cut out one large pink circle and three smaller pink circles for your bunnies paw pads and stick these onto your foot, do the same for the other rabbits foot and stick these onto the bottom of your doily.
All that's left to do is stick some cotton wool onto the middle of your doily for your bunnies tail and you are done! I think this might be one of the easiest crafts I've ever shared? If you like this post make sure that you bookmark this page or pin the image below so that you don't forget to make it!
Want more ideas for Easter crafts to make with your kids? My daughter loved making these sponge printed chicks!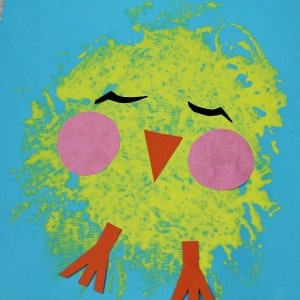 Or for more doily bunny cuteness how about this sweet doily bunny craft (with the front of it not the back!)
Finally I'm loving these Easter activities for toddlers right now and with over 40 activities there's tons of ideas to keep the kids busy.