I think it's fair to say that most of us would like our kids to spend more time outdoors but sometimes it can be hard to think of ideas other than telling them to just go out and play! I know that sometimes my kids need that extra bit of persuasion to get in the garden so these easy outdoor activities for kid are perfect if you need a bit of inspiration for the day.
I have included links to affiliate programmes in this post if you click on these and buy I may earn a small commission. Affiliate links in the text are marked with an asterisks. 
What You'll Find on This Page
Spending Time Outdoors
I think that all kids like spending time outdoors really but sometimes the whole actually getting ready to go outside business can put my kids off it a bit – changing from one thing to another and having to get dressed appropriately (yes, still a battle round here.) Both my kids enjoy spending time in our garden but I like where possible to change things up a bit so they're not always doing the same thing, it helps keep things more fun for all of us! Most of these outdoor activities are ones that are tried and tested with my own kids over the years but I've also added a couple that we want to try out.
If you like these ideas make sure that you bookmark this page or pin an image for later so that you can return to it for more ideas to try!
Outdoor Activities for Kids
Make a nature tree craft using items you find in your garden.
We've been making birdfeeders this week and this post has 15 different ideas so there's lots of versions you could try out!
Bounce around the garden on space hoppers*.
Draw on the ground with coloured chalk.
Painting on a fence with water – this is such a simple activity with very minimal set up and always keeps my kids entertained for ages as they fill up the big 'canvas'.
Painting outside – well why not? An easel would be great for this but we've done it before with a PVC mat spread across the grass – our bubble wrap aliens were painted like this if you'd like to see the proof .
If you've got a water table (or big bowl) then try making some foam to play with.
If you have got flowers you don't mind your kids picking (even daisies!) then my kids enjoyed making flower goop.
Play hopscotch.
Blow bubbles. We've been using the big bubble wands* this week and umm… trying to hit the bubbles with lightsabers* and pretending we're at Jedi Academy. It's been fun though!
These frozen flowers will need preparing a day in advance but it's only a five minute job and defrosting them kept my kids busy for ages. Plus they look so pretty!
Have a water pistol or nerf gun fight.
Give your toys a wash in a washing up bowl – this always kept my kids busy for ages when they were younger as the toys loved 'going to the pool!'
Look for rocks to paint, we love these summer themed rock painting ideas.
Make some flower themed sensory soup.
Paint flames onto your fence with chalk and then put the 'fire' out with your hosepipe.
Look for clouds that look like shapes.
My daughter enjoyed this Superworm themed sensory play which we did in our garden.
Try out water pistol painting like this idea from Messy Little Monster.
Doing a bit of gardening together is always a good idea. Right now we've got beans and tomatoes growing but you can check out our ideas for easy plants to grow from seed for some more ideas.
Make some flower playdough.
Make a mandala out of objects you find in your garden.
If you haven't grabbed our garden or backyard scavenger hunt already then go and get it! It's a good one too if you're able to go out for a walk as you can look for bugs as you go.
More Easy Activities for Kids
All these activities are more for doing inside but they're inspired by the outdoors. Perfect for if the weather is a little less than perfect!
These butterfly suncatchers were a big hit with my kids and are a really cheerful way to brighten up your windows.
Bring the most cheerful of all weathers inside with these easy rainbow craft ideas using our free template.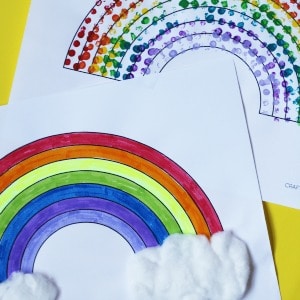 We'll be camping in our garden this summer and these camping crafts for kids are a great way to get your children excited if you're thinking of doing the same thing.