Last week I was set the challenge of coming up with an autumn craft that kids could do while on holiday and after a couple of attempts I've come up with this autumn tree craft that requires no paint or glue! Having spent quite a few holidays in cottages with my own kids I know what it's like to try and have a bit of quiet time with them while also being mindful that you want to keep your holiday home nice. My four year old made this craft alongside me so she's been my tester on the mess front for it!
What You'll Find on This Page
Autumn Tree Craft Materials:
Paper plate
Brown felt tip
Coloured paper
Scissors
Craft stick
Double sided selotape
Let's Make It!
Start by drawing your tree trunk onto a paper plate. I've used a washable brown felt tip pen for this but if you are worried about making a mess then you could easily sway this for a colouring pencil or crayon. My daughter was unsure on how to draw a tree trunk so for her craft I drew the trunk and she coloured it in.
Next it's time to make your leaves that are going to fall to the ground. Taking a craft stick put some glue on the end of it, here I've used double sided selotape which is perfect as you don't have to wait for glue to dry but if you didn't have any and weren't so concerned about potential spills you could certainly use glue, PVA would probably work better for this than a glue stick. Cut some leaf shapes out of coloured card and then stick them onto the end of your craft stick.
Next using your scissors cut a line in your paper plate from the tree branches to the ground, to make the first cut into the plate I would recommend pushing the scissors through the plate into some playdough or blutack and younger kids might need a hand with this.
After this it's time to add the rest of your autumn leaves onto your tree and again we used double sided selotape for this, sticking the tape along the branches and then adding some more leaves that we'd cut out of coloured card.
Once you've added all your autumn leaves thread your craft stick into the hole you cut out earlier and you can now make your leaves fall from the tree!
If you like this post make sure that you bookmark this page or pin an image so you don't forget about it later. Want more autumn crafts for kids? Check out some of our favourites at the end of this page.
Crafting in Cornwall:
Living in Cornwall myself I'm obviously more than happy to recommend it as a gorgeous place for a holiday. For beautiful cottages that are perfect in relaxing in Cornish Horizons tick the box with gorgeous holiday rentals. Want a trip to some crafting shops? I love the look of Coast and Country Crafts and Quilts near Falmouth while the Truro Arts Company runs some brilliant looking art clubs for kids.
More Autumn Crafts for Kids:
We love these pretty autumn leaf suncatchers that my kids had up in their window for ages!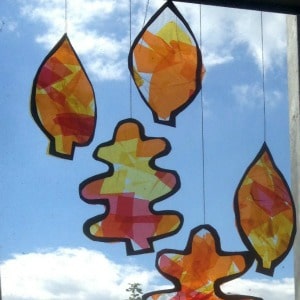 Totally not a mess free craft but these balloon printed apples use a really fun technique and make a nice change to a normal paintbrush.
Finally for younger kids this round up of autumn activities for toddlers is perfect with over 40 fun ideas.
Collaborative Post