Easter is a great time for doing some themed activities with your child and this free printable Easter bonnet template is perfect for doing some simple crafts together.
Kids can design an Easter bonnet or use this as a simple coloring sheet or why not try out one of our Easter bonnet ideas below.
What You'll Find on This Page
Free Easter Bonnet Template
The PDF for our Easter bonnet contains two designs, the first has a line of flowers around it while the second design has been left blank so that you can add your own decorations to it.
You can print out both designs or whichever one you'd prefer. Of course you can also print out as many copies as you'd like making this perfect if you need a simple activity for in a classroom, preschool or kindergarten.
Easter Bonnet Craft Ideas
Coloring
Coloring is always a great activity to do with kids especially as it's so easy to set up, I'd recommend the first template for this so that you can color in the flowers as well. Grab your markers, coloring pencils or crayons and you're good to go!
Stickers
Stickers are a great way for decorating paper crafts and at this time of year Easter themed stickers are pretty easy to come across in stores.
You could look for flowers stickers but why not check out some eggs, Easter bunnies or lambs too for a fun design.
Collage
Grab the scissors and some old magazines or scrap construction paper and make a collage to decorate your Easter hat. Look out for junk mail and newspapers in the lead up to Easter as this sometimes has adverts for Easter products that are perfect for decorating with such as Easter eggs, rabbits or flowers.
If you can't find anything particularly Easter themed to cut out then look for colors and shapes that you could use instead – how about using brown or white paper to add some bunny ears to your hat or going for all the colours to add rainbows.
If you'd like to add some other materials to your collage why not try natural materials like flowers or leaves, yarn or ribbon for making bows, paper straws, pipe cleaners or fabric.
Tissue Paper
You can use tissue paper in two different ways to decorate your Easter bonnet.
For the main part of the hat you could simply glue down tissue paper squares or torn pieces of the paper to color it in. You could go for one color all over with this or mix it up with different ones.
To decorate your bonnet why not try scrunching up your tissue paper before you glue it down for an effect that's more 3D.
More Easter Crafts for Kids
This cute Easter bunny craft uses one of our templates and is a great excuse to get outside together and look for natural materials that you can use.
This easy chick craft is a favourite of ours and was a really fun activity that I made with my daughter when she was a preschooler.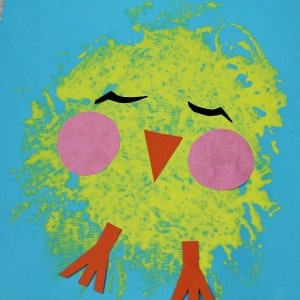 Got some paper plates? Why not make this rabbit craft that you can make 'bounce' around too?
How To Get Your Free Easter Bonnet Template
To get your free Easter bonnet template just subscribe below in the box. We won't send you spam and you can unsubscribe at any time.
Once you've confirmed your email address your template will be delivered to your inbox as a free gift.
Please make sure to check ALL your email folders for the confirmation email and make sure you press the confirm subscription button.