Our Easter nature craft is so easy to set up and looks adorable too, it's the perfect excuse to get your kids outside this spring!
My kids love an excuse to get outside and pick some flower, it's a great way to be hands on with nature.
You'll want to supervise with this activity but I think that this nature inspired Easter craft is a great excuse to spend some time together and I hope you'll love the results as much as I do.

What You'll Find on This Page
Easter Nature Craft
I love seeing how we can use our templates to create different activities and I think that this cute bunny is perfect for making a nature inspired Easter craft.
I've made a few crafts like this with my kids and we always have lots of fun creating them together, it's a nice mix of outdoor activities and something creative.
Of course you're going to want to keep your child company while you look for natural materials they they can use. My kids are aware that they can help themselves to daisies and dandelions growing in the grass but for anything else they need to ask first.
This is a good way to stop them helping themselves to the flowers you've spent months nurturing but I also think that it can be a nice opportunity to teach them the names of any plants you look at (if you know them!) and you can also discuss colors as well, for example looking for pink flower petals together.
You could also use scissors to cut any plants you wish to use as a fun way to practice scissor skills but we normally just use our hands for this.
If you'd prefer to just made this craft with Easter eggs rather than including our bunny then you'll find a link below to a PDF with two egg shapes on it that you could use instead.
Materials Needed
Bunny template (Or our Easter egg template)
Something to color with – crayons, markers etc
Double sided tape
Natural materials – flowers, leaves, grass
Free Easter Bunny Template
I made this craft using our free printable Easter bunny template. You can print as many copies of this as you like so it's great if you want to do this activity as a group or just make a few Easter crafts at home.
As well as the template itself you'll also find some more ideas for activities and crafts that you can do with this printable.
Easter Bunny Nature Craft
Step One
Print your Easter bunny template. I've printed mine onto cardstock because it can cope a bit better with the weight of the flowers than paper, however I've used white printer paper for similar crafts before and it's been fine so go with whatever you have at home.
I've used a white background for mine but if you wanted to use a different colour of paper a pastel color might work well, be mindful though that you'll want to be able to color in your bunny on it.
Step Two
Now it's time to color in your bunny! You can use coloring pencils, crayons or markers for this but make sure that whatever material you use it isn't so dark that you won't be able to see your bunny's features.
I've used a brown coloring pencil for the bunny's body and a pink for it's ears and nose. I had intended to use a marker for these to get brighter colors but my kids had left the lids off the markers so it's coloring pencils instead!
Step Three
Tear off some pieces of your double sided tape and place these on your Easter egg. You could theoretically use glue for this craft but obviously natural martials tend to be odd and unusual shapes so while a glue stick is great for something like sticking paper it doesn't really work so well with leaves and flowers.
The only issue I have with using double sided tape is that it really is sticky! So once you place your flowers on it it's unlikely that you'll be able to move them again.
For this reason you might like to plan your final design for your Easter egg before you remove the other side of your tape to make it sticky.
Step Four
Now it's time to look for your plants and flowers! Take a wander around your backyard together to see what you can use, this helps make sure that your child is only using things that you are happy with them using as well.
Once you have all your materials you can stick them down onto your egg.
More Easter Activities for Kids
This Easter chick craft is super popular and it's really easy to make too, I made this with my preschooler and we both had loads of fun!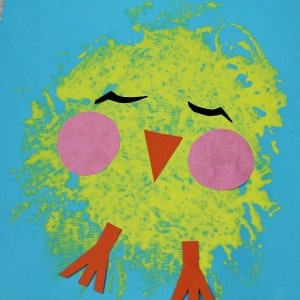 If you love getting outdoors then why not check out our Easter scavenger hunt before going out on a walk around your neighborhood to see what you can find.
Finally if you love our little Easter bunny then why not grab our free printable Easter card with it's fun 3D design that you can color.