Get ready for the holiday season and download our free Christmas stocking template so you can try out some of our simple Christmas craft ideas using it.
If you're looking for easy Christmas craft and art ideas for kids then this printable PDF is the one for you!
This stocking outline is fantastic for coloring or for some easy Christmas crafts and as you can print as many copies as you like it's perfect for at home, at preschool or in classrooms as everyone can have their own stocking to decorate.
We have included affiliate links to some of the products and resources and as an associate we may earn from qualifying purchases.
What You'll Find on This Page
Christmas Stocking Template
Christmas stocking crafts are fun to do with your child and they're a great way to open up conversations about Christmas too.
Do you put out stockings in your house? Where do you leave them?
This Christmas stocking design has a large space on the main part of it meaning that there's lots of room for you to decorate with out it getting too fiddley – helpful if you are doing this with a young child.
There are loads of ways you can decorate your stocking and your only restriction is your imagination and what materials you have at home.
Christmas Stocking Craft Ideas
One of the great thigs about a simple outline like this printable is that it's really good for inspiring you and your child's imagination.
We love the ideas below but I'm sure a quick root through your craft supplies will inspire you too.
Coloring – This template makes a great Christmas stocking coloring sheet. Just grab some markers, crayons or paint and use your favourite festive colours or make a fun pattern.
Mosaic – Cut shapes from colored paper, cardstock, scrap paper or magazines and use them to create a mosaic on the stocking.
Stickers – Decorate your Christmas stocking with snowflake stickers.
Use recycled materials – Use scissors to cut out Christmas themed pictures from magazines, fabric, comics or old Christmas cards and glue them onto your stocking. Santa, Christmas trees and angels are perfect for this but we love cute pictures like unicorns or pugs too!
More Free Christmas Craft Templates
In our home December is a time when my kids want to make a LOT of Christmas crafts and I know that lots of other kids are just the same.
We have loads of free Christmas printables and templates that are perfect for kids crafts and activities.
You can use them as printable coloring pages, playdough mats or try out one of the many ideas that we share with each download.
Our Christmas tree template is a really good one for younger kids such as preschoolers and toddlers because the large outline gives them a big shape that they can decorate.
Our gingerbread house template is new and has four different designs for you to choose from so you can pick the one that's perfect for the idea you want to try.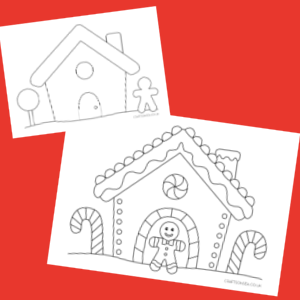 Our reindeer template is super cute and has three different designs available, we think this one is perfect for the holiday season!
How To Get Your Christmas Stocking PDF
To get your free Christmas stocking template just subscribe below in the box. We won't send you spam and you can unsubscribe at any time.
Once you've confirmed your email address your template will be delivered to your inbox as a free gift.