This printable bee template is perfect for some easy to set up quick crafting with your kids! This cute PDF is free and I'll be sharing some ideas for how you can use it with your child as well.
For me bees are a reminder that summer is on it's way. When I was a kid I used to be scared of them but now I'm older and understand more about the essential role they play for our planet I'm much happier to have them around.
Bees are a great topic for kids and they also fit in well with spring and summer topics for kids as well as the environment or learning about animals in general.
RELATED – Free Templates
What You'll Find on This Page
Bee Template
These bee printables would work really well as part of an insect unit, you can try out one of the craft ideas below or they would look great as part of a display up on a bulletin board in a classroom or preschool.
Bee crafts and activities are obviously also perfect if you are looking at the letter b and they're great for spring and summer themes too.
If you like this template then make sure you bookmark or pin it for later but make sure that you grab your PDF from the link below and not printing from this page or it won't look right!
Bee Craft Ideas
Coloring – Of course the easiest activity that you can do is to use these as printable coloring pages for your child and simply grab some markers, crayons or coloring pencils and color it in. This is always a popular idea with kids of all ages and it's great as a quiet time activity too.
Torn Paper – You could use yellow and black paper torn into pieces and then glue them onto your template to colour your bee in. This is also a fun way to use up any old scrap paper or cardstock that you have at home.
Drawing Prompt – How about adding a background to your template? Is your bee in a garden or in a beehive?
Finger Painting – For a super easy bumble bee craft you could color the bee in yellow and use finger painting or a cotton bud dipped in paint to colour the black stripes. Don't forget to color the bee's wings too!
Beehive Template
If you're using our bee template then you might also want to grab our free beehive template at the same time, they'd be great as well if you're in a classroom to decorate for part of a wall display.
More Bee and Bug Activities For Kids
This paper plate bee craft is super easy to make and looks really cute too. We've used a painted yellow paper plate and torn black construction paper to make the bee stripes but you could use scissors to cut them or draw them on with a black marker if you prefer. You could also try adding black pipe cleaners for the bee's antennae too.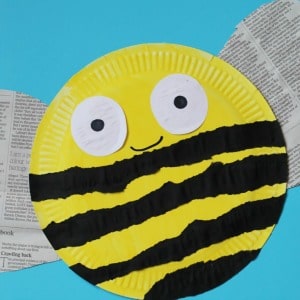 These butterfly suncatchers are a great way to cheer up your child's windows and a good way to look at color mixing too.
Encourage your kids to get outside and start spotting the creatures around you with this free outdoor scavenger hunt perfect for your backyard or garden.
How To Get Your Free Printable Bee Craft Template
To get your free bee template just subscribe below in the box. We won't send you spam and you can unsubscribe at any time.
Once you've confirmed your email address your template will be delivered to your inbox as a free gift.
Please make sure to check ALL your email folders for the confirmation email and make sure you press the confirm subscription button