This bee template is perfect for some easy to set up quick crafting with your kids! This cute printable PDF is free and I'll be sharing some ideas for how you can use it with your child as well as details about more of our free templates for kids crafts that you might like to try.
For me bees are a reminder that summer is on it's way. When I was a kid I used to be scared of them but now I'm older and understand more about the essential role they play for our planet I'm much happier to have them around.
Bees are a great topic for kids and they also fit in well with spring and summer topics for kids as well as the environment or learning about animals in general.
RELATED Free Templates
If you like this template then make sure you bookmark or pin it for later but make sure that you grab your PDF from the link below and not printing from this page or it won't look right!
Bee Craft Ideas
Of course the easiest activity that you can do with your child is to simply grab some pens or colouring pencils and colour it in.
You could use scrap yellow and black paper torn into pieces to colour your bee in.
How about adding a background to your template? Is your bee in a garden or in a beehive?
You could colour the bee in yellow and use finger painting or a cotton bud dipped in paint to colour the black stripes.
Beehive Template
If you're using our bee template then you might also want to grab our free beehive template at the same time, they'd be great as well if you're in a classroom to decorate for part of a wall display.
Bee Template Terms of Use
This template is free for personal or school / preschool use only. Please do not edit the PDF and if you would like to share the template with other people please link to this page not the PDF itself.
Get Your Bee Template
Click here to get your bee template.
More Bee and Bug Activities
This paper plate bee is super easy to make and looks really cute too.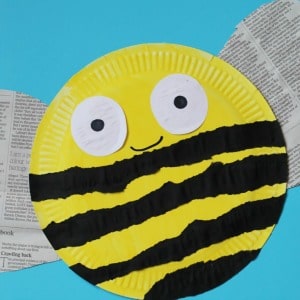 These butterfly suncatchers are a great way to cheer up your child's windows.
Encourage your kids to get outside and start spotting the creatures around you with this free outdoor scavenger hunt perfect for your backyard or garden.