Looking for a free printable baseball template for your kids? Our PDF is perfect for crafting with or you can use it as a basic coloring page.
Baseball is a really popular game with kids during the summer and choosing a subject that they love can help encourage them to take part in crafts.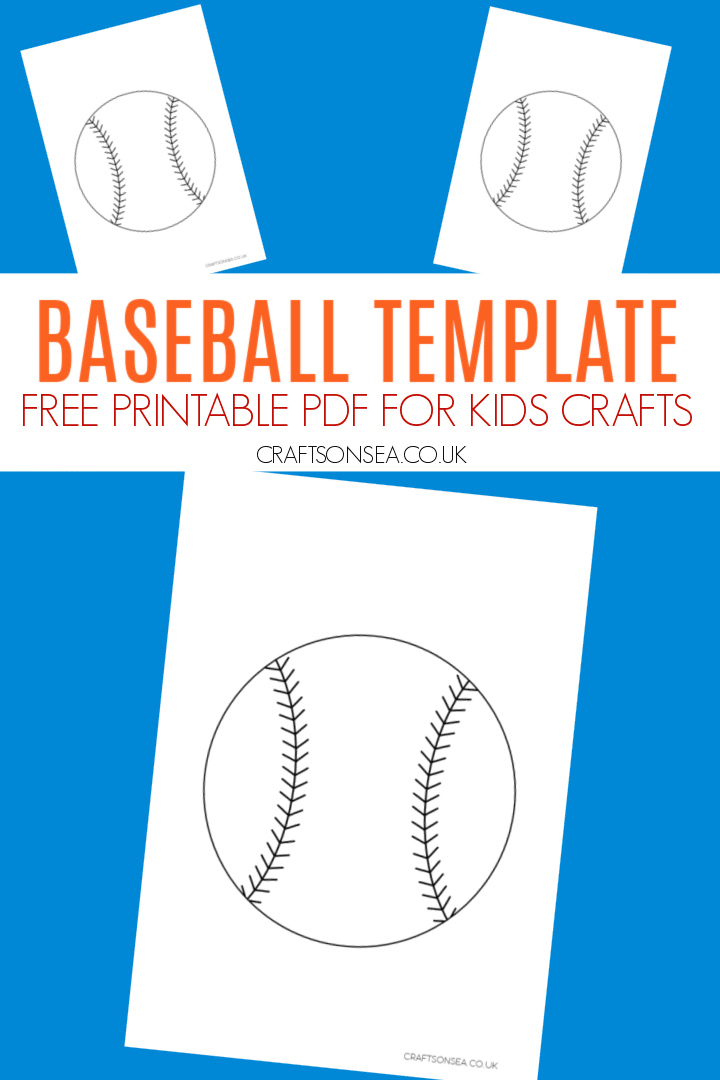 RELATED POSTS: Free Templates for Kids Crafts
What You'll Find on This Page
Free Baseball Template
You can download and print our basketball template as many times as you like so it's perfect for at home or if you want to do some basketball crafts with a group or in a classroom.
You can also use this as a great excuse to get outside too, just grab a baseball and a baseball bat afterwards and go outside to play!
Baseball Craft Ideas
Coloring
Grab your crayons, coloring pencils or markers and design your own baseball in your favorite shades or how about your team colors?
Want to color your baseball in white? Just print it onto colored paper instead of white. White coloring pencils and crayons can be a little bit pale for this but chalk markers normally have really bright colors or you could use white paint instead.
Cotton Balls
Pop some glue onto your baseball picture and then fill in the shape with some cotton balls for a 3D craft. If you like you could also glue on some strips of red paper or cardstock for the stitching.
Finger Painting
Pour some red paint onto a plate or tray and then dip your finger in it before dabbing it along the stitches of the baseball to color it in.
Torn Paper
Print your baseball template onto colored paper and then color it in using pieces of torn white paper which you can glue down. This is also a great way to use up any old scrap paper.
Writing Prompt
Use the template as a prompt to write down how you feel about playing baseball on it or words that you might associate with baseball like hit, homerun, play, fun or your team name.
More Summer Crafts For Kids
Our shell suncatcher craft is a great reminder of fun summer days out at the beach and you can use our free template to help you make it too.
Have you got a shark fan at home? Our shark craft uses another of our templates for a fun painting activity.
Finally ice  cream is always a subject that's popular in our home and we have lots of ideas for using this free printable template including this paper ice cream craft.
How To Get Your Baseball Printable
To get your free baseball template just subscribe below in the box. We won't send you spam and you can unsubscribe at any time.
Once you've confirmed your email address your template will be delivered to your inbox as a free gift.
Please make sure to check ALL your email folders for the confirmation email and make sure you press the confirm subscription button.