Recently I shared some fun autumn tree painting ideas for kids and today it's time to share some more fun ideas with these autumn leaf painting ideas. Both posts have a free template with them so that you can recreate this at home (or come up with some new ideas!) with a little bit of a hand on getting things set up!
What You'll Find on This Page
Autumn Leaf Painting Ideas
Autumn is such a fun excuse for getting the paints out, after all with all the colours mixing together in the trees it's fun to be able to recreate that at home. As the weather is sometimes less than awesome during autumn too it's always good to have a back up plan in case you end up stuck indoors – having some printables for crafting is always a good thing!
If you like these ideas and want to save them for later don't forget to bookmark this page or pin an image and of course if you'd like some more inspiration check out the other ideas at the end of this blog post.
You can view all the autumn leaf painting ideas I'm sharing today in the video below or if you prefer to read about things you'll find the ideas written just below it.
For all of these painting ideas you will need some paint, a plate to pop it in (much easier for printing) and of course your leaves template – grab your free autumn leaf template here.
Foil Painting
Simply roll up a bit of foil into a ball and then use it to paint your leaves with, as you'll see in the video I literally just used a few scraps for this but it's a really fun material for kids to use.
Pom Pom Painting
This one is great for fine motor skills too. If you're trying to avoid getting too messy you could use a clothes peg to hold the pom pom.
Toothbrush Painting
Grab an old toothbrush and get painting with it!
More Autumn Crafts for Kids
This pinecone rolling painting activity is another great way to use your autumn leaf template
These autumn leaf suncatchers are one of our favourite crafts and look fantastic in the window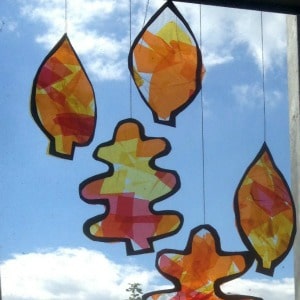 These balloon printed apples are another fun way to create some autumnal art with the kids!