Need something to keep your kids entertained over the colder months? We've got you covered with this free printable winter nature scavenger hunt.
When it's colder it can definitely be harder to encourage your kids to get outdoors so why not put some fun into a walk and hunt for ll the items on our list. You can even colour them in as you go!
RELATED POSTS: Scavenger Hunt Ideas
What You'll Find on This Page
Winter Nature Scavenger Hunt
This fun winter scavenger hunt is the perfect activity for getting your kids out in the fresh air during the colder months.
It's been designed to have both words and pictures so that it can be used by all age groups. Older kids can read the things to look for while younger children such as preschoolers or toddlers can use the pictures to help them see what they're looking for.
Scavenger hunts can be a great way to make a winter walk more fun, I know that my own kids are more likely to enjoy a walk if they have something fun to do during it and a nature hunt means that they can notice the seasonal changes around them while enjoying getting outside.
All you need to do is grab our PDF and get ready for a mini adventure!
Nature Scavenger Hunt Supplies:
Printable scavenger hunt
Markers, crayons or a pencil
Clipboard
How To Do An Outdoor Scavenger Hunt
First you need to make sure that you've got all your supplies. I'd recommend that if you are doing this activity with more than one child then you print them a copy of the scavenger hunt each. Of course kids can work together as a team but I know that with my own children they enjoy it more if they get to colour the pictures in themselves.
A clipboard for each copy of the printable can also be really helpful so that you child has something to lean on, especially if it's a little damp outside. However this isn't totally necessary and if you are going for a longer walk then carrying around a clipboard can be a bit of a hindrance – you know if you'll be the one who ends up carrying it instead. In this case I'd recommend just popping the printable and a few markers in your pocket to be grabbed out when needed.
You can do your nature scavenger hunt in your backyard or when you are out or a walk, a trip to the woods is perfect but you could also find lots of things in your local park. You are likely to find more of the items if you go out further (especially things like animal footprints) but if you just need something to keep your kids entertained in your backyard then that's absolutely fine!
As you look for each item on your list be sure to colour in each one as you find it. The aim is to try and get them all but obviously that isn't always possible, just aim to get as many as you can.
Obviously make sure that you are suitably dressed for the weather, you want to enjoy your time outside as much as possible.
Winter Scavenger Hunt List
The items you'll be looking for on your winter scavenger hunt are:
Cloud
Feathers
Puddle
Pinecones
Icicle
Squirrels
Animal tracks
Brown leaf
Snowflake
Holly
Bare tree
Berries
More Winter Themed Free Printables
Winter can sometimes feel a bit long when you need to think up some more ideas to keep your child busy so we're sharing lots of craft templates that are perfect for winter activities with your child.
All of these are free and we always share ideas of ways that you can use them too.
Our snowflake templates are always popular and there are two different sizes of designs available.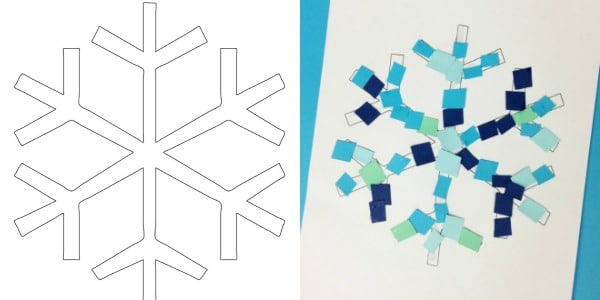 Our snow globe template is a great one for encouraging some creativity – what will you draw inside?
Finally if you've been out enjoying getting active in the snow why not check out our free sled template too.
Free Winter Nature Scavenger Hunt Printable
To get your free winter scavenger hunt just subscribe below in the box. We won't send you spam and you can unsubscribe at any time.
Once you've confirmed your email address your template will be delivered to your inbox as a free gift.