With St Patrick's Day on the way I'm sharing some easy shamrock crafts for kids today all of which you can make using our free shamrock template.
As well as today's crafts I'll be sharing some more easy St Patrick's Day crafts and activities for kids and some themed books that you could share together.
We have included affiliate links to some of the products and resources and as an associate we may earn from qualifying purchases.
What You'll Find on This Page
Shamrock Crafts for Kids
For today's crafts I've done a mixture of painting and crafts that don't need you to get the paint out, I know as a parent that there are days when I'm happy to grab all the paints and embrace the mess and others when I just can't face it! If you've only got a limited amount of time then it's good to have an activity which won't take too long to clear up as well.
These would be good for some easy St Patrick's Day crafts for toddlers but they'd be great for preschoolers and kids in the early years of school too, obviously as your child grows older how they make the craft will change especially with crafts like the mosaic one.
Like these ideas? Make sure that you bookmark this page or pin an image so you can return to it later.
Shamrock Template
All of the crafts that I've shared in this post are made using our free shamrock template, you can print as many copies of it as you would like you grab some copies and get creative!
St Patrick's Day Books for Kids
St Patrick's Day is a great day for celebrations and it's fun share stories related to it to help your child get enthusiastic, or if they're already raring to go then these books might be a good way to help calm them down! Either way we've always enjoyed sharing a themed story alongside doing something creative and these books all look great.
Pom Pom Printed Shamrock Craft
Pom pom activities are often a favourite because they're a great way to practice that pinching grip but also because as pom poms have always seemed to be that thing we end up with in a craft kit that we don't quite know what to do with!
They're also a good one for a simple discussion around colour recognition with your child. What colour pom poms do you have? Which is the biggest? Are there any smaller?
If your child doesn't like the feeling of paint on their hands (which will inevitably happen with pom pom painting) then you can grab hold of the pom pom with a clothes peg instead, meaning your child's hands are a bit further away from the mess.
For this craft you'll need to pop some coloured paint onto a reusable plate to make it easier to dab the pom pom in it.
You could go just go for green paint or you can use yellow and blue if you'd like to do some color mixing or add some orange too as I have, go with whatever you have at home.
Dab your pom pom into the paint and then dab it on to your shamrock until it's completely covered.
Mosaic Shamrock Craft
Mosaics are a good way to use up any old scrap paper and cutting the old pieces up is a great way to practice scissor skills as well.
When making mosaic crafts with my kids I normally use it as an excuse to chat about what shapes we're cutting out too, even if it's just squares and rectangles!
Cut some old bits of paper into a pile and then cover your shamrock in glue. I've used a PVA glue for this but a glue stick should work as well.
Cover your shamrock in the cut up pieces of paper trying to leave a gap between them where possible, older children will find this easier while younger ones will have more overlapping paper.
Tissue Paper Shamrock Craft
Tissue paper is a great material to craft with, simply cover your shamrock shame in glue and then tear up pieces of tissue paper, scrunching them into balls.
Glue the scrunched tissue paper all over your shamrock, you can use the same colour all over, different shades of green or add yellows as we have here.
More Ideas for Shamrock Crafts
Paint your shamrock using some clover dipped in paint.
You could use this template with our foil painted shamrock craft too.
Have you tried making puffy paint? Crafty Morning's puffy paint shamrock craft sounds really fun to make and would be another great way to use the template.
More St Patrick's Day Crafts and Activities
Grab the playdough and print off our free St Patricks Day playdough mats to help learn about emotions.
We love this free rainbow template that's perfect for some St Patrick's Day crafts and we've got lots of ideas on how to decorate it too. Make sure you pop a pot of gold on the end!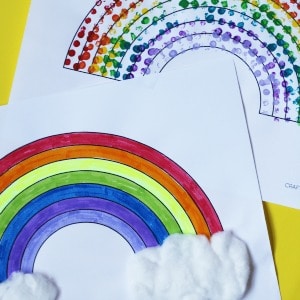 Make this cute doily leprechaun craft for kids.