This super cute movable paper plate ghost craft is so easy to make and of course it looks fantastic too! We're big fans of paper plate crafts because they're so versatile and so cheap to make too and this cute ghost craft for kids is perfect for Halloween.
Ghost Craft
In the run up to Halloween my kids always love getting creative and making as many things as they possibly can and ghost crafts are some of their favourites.
You can design how you'd like your ghost to look and then have them float around the sky, or maybe change the background up to include somewhere you'd like to have them haunt!
If this craft is a little to tricky for your child, why not check out our paper plate ghost craft instead? It's a bit of a 'little sister' to this craft and may be easier for younger children.
Movable Paper Plate Crafts
I first saw Helen's movable ship paper plate craft a little while ago and now movable paper plate crafts seem to be everywhere I love this flying witch craft from I Heart Arts and Crafts and Kids Craft Room's movable bat craft. Ghosts seemed like the perfect thing to be flying through the air this Halloween and they're easy to draw too which is obviously always a factor when you are crafting with kids!
Ghost Craft Materials:
Paper plate
Black paint
Paintbrush
Scissors
Glue or tape
White card
Star stickers
Craft sticks
Pen
Paper Plate Ghost Craft:
Start by painting your paper plate black and then leave this to dry. You can of course buy a black paper plate if you would prefer to skip this step.
Once it has dried cut a long line across the bottom of your paper plate making sure that it doesn't reach the edges at all. It doesn't matter if this line is wobbly at all as it will help your ghost float up and down!
When you make the cut into your paper plate make sure that you have some playdough or bluetac under your plate to ensure that you don't hurt yourself or damage anything, this step definitely isn't one for younger kids.
Once your paper plate is ready cover it with star stickers I like the gold and silver ones best but when my kids have made these before they're not satisfied until every sticker in the pack is covering the plate.
Next draw your ghost onto some white card and cut it out. Turn your ghost over and then attach a craft stick to the back.
I've used washi tape because glue takes longer to dry (not as much fun if you want to play with this straight away) and it's easier to tear or move around than normal selotape.
Thread your craft stick through the hole in the paper plate and you're ready to play with your movable paper plate ghost. Happy haunting!
More Ghost Crafts for Kids
This torn paper ghost craft uses our free template and is great if you have lots of scrap paper.
Make this super easy ghost craft with your child.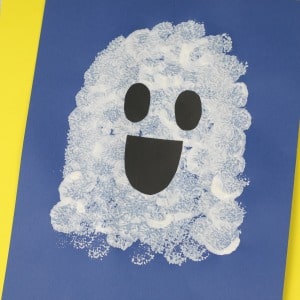 Another one for our template try out this resist art ghost.