Here's a simple craft template that you can print off ready to use with your kids or in your classroom or Sunday School, our free nativity template.
There are four designs to choose from so it's perfect if you want to use this as a nativity coloring page, paint your own nativity scene or as the basis for some nativity craft ideas.

RELATED POSTS: Free Templates for Kids Crafts
What You'll Find on This Page
Nativity Template
There are four different designs that you can download and you'll have them all available in the PDF pack, just choose the one (or more) that you want to print in your printer settings.
The first template shows a basic outline of the stable.
The second template shows the outline of the stable along with Mary, Joseph and baby Jesus who is in a manger.
The third template has a basic outline of a stable again but this also has the star of Bethlehem above it.
The fourth template has the stable, star, Mary, Joseph and Jesus as well as a wise man, a donkey, the moon and a star, a sheep, a shepherd and an angel.
Nativity Craft Ideas
Coloring – Coloring is a really good quiet time activity for kids and it's something that they normally enjoy too. The two designs with figures in them would make the best coloring sheets so all you need to do is print them out and grab markers, coloring pencils or crayons. If you want to paint your own nativity scene then I would recommend printing this onto cardstock to make sure it doesn't become over saturated and tear.
Drawing Template – Start with one of the stable outlines and encourage kids to draw on the people and animals from the nativity story. They could do this as you read the story to them if you like.
Collage – You could add brown construction paper to the stable or straw or shredded paper to the manger.
Puppets – You could print out the template with the most characters on them onto card stock and then cut these out using scissors. Stick these onto popsicle or craft sticks using glue or tape and then you can use them to make your own nativity puppet show to help tell the story.
More Nativity Activities for Kids
If you like this template why not grab our free printable nativity scene craft which is 3D!
We've shared lots of advent and nativity activities for kids which are great to do in the run up to Christmas Day. Our nativity story stones are a great way to help kids learn to tell the nativity story themselves or you could decorate a load and use them as painted rocks to hide for others to find over Christmas.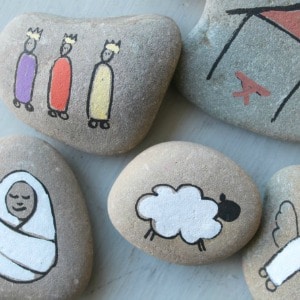 Use another of our free printable templates to make this cute handprint angel craft, we think this would make a great keepsake too.
Grab our free printable nativity scavenger hunt, kids can color in each thing or person as they hear about them in the Christmas story.
How To Get Your Free Printable Nativity Template
To get your free nativity templates just subscribe below in the box. We won't send you spam and you can unsubscribe at any time.
Once you've confirmed your email address your templates will be delivered to your inbox as a free gift.
Please make sure to check ALL your email folders for the confirmation email and make sure you press the confirm subscription button.