We love Christmas crafts and I think they lend themselves perfectly to being keepsakes too, this handprint angel craft is perfect for this. It's cute, festive and you just need to pop your child's name and age on it to make it something you'll want to keep for a long time!
To make it easy for you to create this craft with your child we've used our free printable angel template so you can make this craft stress free at home, preschool or in a classroom.
We have included affiliate links to some of the products and resources and as an associate we may earn from qualifying purchases.
I'm happy to admit that I absolutely love these angel crafts which I made with the help of my daughter, they're such a special piece of art and I think they'd make gorgeous keepsakes or you could display them over Christmas we've definitely framed our kids Christmas art before and hung it up over the festive period!
I've kept the tutorial for this craft really simple but you will find TONS of ideas for ways to adapt this to suit your child below as I wanted to try and make sure that it's fun for kids of all ages. Do give it a read as there's loads of hints to make this the perfect craft for you depending on your child and what you have at home.
Supply List
Angel Template
Colored markers or crayons
Chalk pens / biro
Plate or tray / paintbrush
Free Printable Angel Template
For this craft I've used our printable angel template which is free to download. There are two different designs included in the PDF, one with wings and this second design which is without. You can get both designs but you only need to print the one you want to use.
If you do like making crafts like this with your child then you'll also find lots more angel craft ideas you can do together here.
Handprint Angel Craft
Start by printing your template, I've used paper for mine but white cardstock may be better as it's less likely to become saturated by the paint and will be a bit more durable if you want to keep this craft longer.
Colour in your angel. I've used different skin tones and hair colours for our angels and it's a good craft for allowing your kids to decide what they think their angel should look like and especially for making sure that they can have an angel who looks like them if they want. My daughter loved these as she said it looked like her and her BFFs.
For drawing the angel's features I used a biro to draw the eyes and mouth and a chalk pen for the cheeks, these are the chalk pens I've used although I'm sure that any would be good. I would also have used my black chalk pen for the features but it had gone missing!
The reason why I haven't used normal felt tips / markers for this is that they're often not that good for drawing on top of other colors. If you're not sure about your own pens then I'd recommend trying them on a bit of scrap paper first.
Next is making your handprints. We often do a practice run on this first to make sure that my kids are happy with the way it looks and where they want to put their hands. For this craft we practiced doing the handprints with her fingers pointing up or down to see what she thought looked bet and as you can see she decided that fingers pointing towards the bottom of the paper was her favourite.
To get the paint onto your child's hands you can either pour some paint into a plate or tray and have them pop their hands onto it or paint their hands using a paintbrush which is the option we went for here.
Another really good option is the ink pads which are designed specifically for hand painting. I don't personally have any of these as we don't do loads of hand print crafts but I have used them before with my kids at a playgroup and the ones we had there were really good.
Carefully hold your hands over your angel and make sure that your wings are lined up with the edge of their body before you press your hands down onto the template to make the painted wings.
We found that it helped if we did one angel wing at a time with me holding down the paper so that my daughter could carefully remove her painted hands afterwards without smudging her picture.
Leave your angel craft to dry and then it's ready to display.
Ideas for Adapting This Craft
I printed our templates onto white paper as I knew that I had some gold paint but you can easily change this activity if you want to make your angel wings from white paint. You'll possibly still want to print your template onto white paper so that you can color it in but instead of printing your handprints directly onto your paper cut your angel shape out with scissors and then do do your white painted handprints onto colored paper blue or a festive green or red would be good. Once the paint is dry glue the angel shape on top.
If your child hates getting their hands messy, and I know some do, then instead of painting their hands draw round them onto paper or cardstock and then cut the hand shapes out before gluing these onto your template.
If you choose to cut your angel shape out then you could use this to make angel Christmas cards, just use premade cards or fold some cardstock in half, print your handprints and then glue the angel template on. These would be great for family especially grandparents!
Add some embellishments! I've kept our angels pretty paint but you could add stickers or pom poms to their dresses.
Fancy a change from handprints? Take your kids socks off and make a footprint angel instead! Just make sure you have something nearby to clean those feet up with straight away as you won't want footprints all the way to the bathroom!
Instead of drawing and coloring in your angel's face you could cut out a picture of your child's face and glue it on.
I haven't added a halo to ours but you could draw one in if you like or maybe glue on a yellow pipe cleaner twisted into an oval shape.
More Christmas Crafts for Kids
This easy angel craft is another of my favourites, using a paint splat to create it.
If you like nativity crafts then why not check out these DIY nativity story stones, they'd make great painted rocks too if you like hiding those.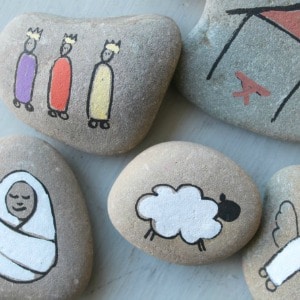 Angel Craft for Kids
Use handprints and our free template to make this easy angel craft.
Print
Pin
Rate
Equipment
Colored pens

Chalk pens / biro

Paint brush or plate
Instructions
Print out your angel template, we recommend using the one without wings.

Color your angel in using colored markers.

Using chalk pens or a biro add eyes, a mouth and pink cheeks for your angel.

paint gold paint onto your child hands, either by using a paint brush or pouring paint onto a plate and the putting their hands into the paint.

Place your hands on either side of the angel, using the handprints to make the angel's wings.
Notes
When printing the angels wings you may find it easier to do one at a time so that you can get the correct angle.
Tried this?
Mention @craftsonsea - we'd love to see and maybe share it!