Ideal for Christmas crafts or fairy-tale activities, our free gingerbread man template is perfect if you want to design your own gingerbread man.
With two different designs there's loads of ways to embrace your child's creativity, whether you want to make some easy festive decorations or encourage some fairy-tale inspired fun.
In this post you'll find lots of ideas for simple gingerbread man activities you can do with your child using this PDF as well as details on more free gingerbread man themed printables – so grab your crayons, glue or playdough and let's get started!
What You'll Find on This Page
Gingerbread Man Template
Gingerbread men are a classic for all the year round, there's The Gingerbread Man story, Christmas or arguably my kids favourites – a quick trip to the bakers to pick up a snack.
These are large gingerbread man templates so they're perfect for kids to decorate.
You could print out a load and use them as Christmas decorations for your bulletin board at school or preschool or use them at home for a fun activity during the holiday season.
Whatever your inspiration is for wanting to make some gingerbread man craft projects we've got lots of inspiration for ways that you can use these templates with your child.
They're perfect for at home but of course they're great for preschool or classroom use too.
These printable PDFs contain two designs. One blank gingerbread man outline and one gingerbread man template with details – eyes, mouth, buttons and icing around their arms and legs.
What Should I Print My Gingerbread Man Template Onto?
How you print out this template depends on how you want to use it.
If you'd like to just just the more detailed drawing as a gingerbread man coloring sheet then it's fine to print onto normal white printer paper, and actually that's fine for a lot of these activities too.
However if you're going to be doing an activity that includes a lot of paint or glue you might want to opt for white cardstock instead as it's slightly more sturdy.
Making a puppet? If you're doing an activity where you don't want to color in your gingerbread man then why not print it onto brown cardstock instead.
Gingerbread Man Craft Ideas
Coloring – Coloring is a great activity for kids and it's one that's really good for keeping the peace too. This PDF will make great gingerbread man coloring pages, all you need to do is print them out, grab some brown markers, crayons or coloring pencils as well as some bright colours too. For this activity I think the gingerbread man download with features would be best.
Design your own gingerbread man – The blank gingerbread man template would be perfect for getting kids to create their own design. You could go the traditional route and draw on buttons and maybe a tie or bows. Let your imagination go wild and create a new adventure for your gingerbread man – how about becoming a pirate or astronaut?
Playdough mat – Use either mat and 'color in' your gingerbread using brown playdough or use other colors to create his features. If you want to use this PDF as a playdough mat more than once then I'd recommend laminating it, you could even try out our gingerbread playdough recipe with this to make it even more of a sensory activity.
Draw in the background – Use this template as a drawing prompt and get your child to draw in the background of the picture. If you're reading The Gingerbread Man then you could draw the little old lady and little old man or some animals in the background as he runs away from them or if you're making this as a Christmas activity then draw a festive scene behind him. Another way to do this would be to paint or draw your scene onto a paper plate like I've done for this scarecrow craft and glue your gingerbread man onto it.
Torn paper – My kids have always loved tearing paper, I think because it's something you wouldn't normally be encouraged to do which makes it feel like more of a fun craft! All you need to do is grab some brown paper (scrap paper or construction paper is great) and tear it into pieces. Cover your gingerbread man outline with glue and then stick the torn pieces of paper on to it.
Mosaic – Grab the glue sticks and scissors for this simple craft, this idea is similar to the torn paper craft but use cut up pieces of paper instead, this would be a good way to practice scissor skills if you like.
Puppet – You could make a cute gingerbread man puppet by printing this template onto cardstock and then either gluing on a stick or perhaps sticking it onto a paper bag upside down you you can pop your hand in.
More Free Gingerbread Man Printables
We love sharing free printables for kids crafts as they're a great way to keep kids having fun without you having to spend a fortune on new craft materials.
You'll find loads of ideas for across the year as well as lots especially for the festive period but these are my favorites featuring gingerbread men.
This gingerbread house colouring page is super cute and would be perfect for Christmas.
We also have a fun build a gingerbread man craft that's perfect for practicing scissor skills.
This gingerbread house template has four different designs so you could use it as a coloring sheet but why not try adding stickers, pom poms or glitter to decorate it and design your own gingerbread house?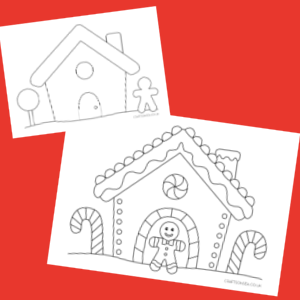 How To Get Your Free Printable Gingerbread Man Template
To get your free template just subscribe below in the box. We won't send you spam and you can unsubscribe at any time.
Once you've confirmed your email address your template will be delivered to your inbox as a free gift.
Please make sure to check ALL your email folders for the confirmation email and make sure you press the confirm subscription button.