This paper plate fall tree craft is really easy to make and is a nice way for kids to make an easy autumn craft without having to use paints. We've shared lots of easy fall crafts for kids over the years as they're a great way for kids to explore colour and are a great reminder for all of us to take note of the natural world around us. I also love the material that's used in this craft for colouring the tree as it's just so easy for decorating being more flimsy than coloured paper and it's also a great one to play with too if you have a bit spare!
*I have included links to affiliate programmes in this post if you click on these and buy I may earn a small commission*
Easy Paper Plate Fall Tree Craft
What do you love most about fall trees? The colours? The way the leaves scrunch under your feet? I love how this craft allows you to have those conversations with your child. You can go through and choose the colours you want for your leaves together, maybe looking at some trees together outside too and the tissue paper makes such a great sound when you move it.
This craft is great for school aged kids who could do all of the cutting themselves but it also works really well as a craft for toddlers as you can prepare all the bits in advance and let them glue it all on themselves. As the paper plate is covered in the coloured squares it also means that it doesn't matter where they stick their materials it will look absolutely perfect!
Fall books for kids
We love sharing stories as a family and I think it's fun when you can match a story to an activity. All these books look at autumn or fall so they'd be a great choice. Why not have a look and see if any of them sound right for your child.
Like this craft? To make sure you don't forget about it make sure that you bookmark this page or pin an image so that you've got it to hand when you need it. Want more ideas for easy fall crafts for kids? Check out the ones we're sharing at the end of this post.
Materials
1

Paper plate

Tissue paper

red, yellow and orange

Paper or card

brown
Instructions
Cut some square shapes out of coloured tissue paper - I've gone with red yellow and orange but greens and browns would all work.

Stick the squares onto a paper plate.

Next cut out a shape for your tree trunk - you'll need to do this for younger kids but older ones can do it themselves. As an alternative to a more 'traditional' tree trunk you could draw around your child's hand and a bit of their arm to make a fall tee craft that's a bit more of a keepsake or if you fancy getting the paints out you could even do one as a hand print (and a bit of armprint?!).

Stick the tree trunk onto the paper plate.
Notes
I've used PVA glue for this craft (I think this is known as school glue in other countries) but a glue stick should work just as well and will dry quickly.
Tried this?
Mention @craftsonsea - we'd love to see and maybe share it!
More Fall Crafts for Kids
We've shared lots of ideas for painting fall trees and they all use our free tree template too!
Want to make some fall leaf crafts? These leaf suncatchers are ones that my kids made and they've been hugely popular too!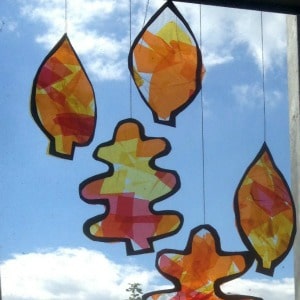 Finally this apple tree craft is one that I did with my daughter and it's a great way to practice fine motor skills too.