This last week we've been doing a lot of scavenger hunts at home, they're a great way to keep the kids busy as they race around looking for all the items they need! A few days ago I shared an outdoor scavenger hunt for kids and today I'm sharing this free indoor scavenger hunt, perfect for if you don't have a garden or if the weather is less than awesome.
We've got lots of scavenger hunt ideas for kids but I have to admit that this one is one of my favourite printables that we've shared, it's just such an easy way to keep the kids occupied hopefully while you get to grab a cup or tea.
We have included affiliate links to some of the products and resources and as an associate we may earn from qualifying purchases. Affiliate links are marked with an asterisk.
Indoor Scavenger Hunt
To help make sure that the activity lasts a little longer all the things to find need to be coloured in rather than just ticked off (although you can do that if you'd prefer!)
Obviously make sure that you print the PDF below and not the images on this page or they'll look all wonky, although if you want to pin an image so you don't forget about this then go for one of them.
What Do You Need for an Indoor Scavenger Hunt?
For this scavenger hunt you will need:
Your free printable (below)
Colouring pens* or colouring pencils*
We LOVE easy to set up activities if you feel the same then check out more of our free printables with colouring, games and crafts to help keep your kids entertained.
Scavenger Hunt Printable Terms of Use
This indoor scavenger hunt is totally free for you to use and you can print as many copies as you would like. You may not edit or sell this printable. If you wish to link to this printable please link to this page and not to the PDF itself.
Indoor Scavenger Hunt PDF
Click here to get your free indoor scavenger hunt PDF.
More Free Printables for Kids
Grab our outdoor scavenger hunt for kids and have fun playing outside too.
Make some cheerful rainbow art with this free rainbow template.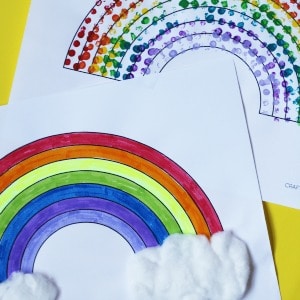 Need some ideas for easy and cheep activities? This printable list of free activities to do with your preschooler includes some ideas for outdoors but there's lots of things you can do inside too.