I must admit that I am a bit obsessed with story stones so with Christmas fast approaching Christmas story stones seemed the logical progression! These sweet story stones can be made by adults or kids (although my son often makes Batman inspired ones instead!) but either way they are a great way to encourage a bit of creative storytelling.
Christmas Story Stones Materials
This post contains affiliate links
Stones – if you don't have any to hand they are super easy to buy online
MY LATEST VIDEOS
Pens – normal pens do not work well for this so you will need something a bit specialist, I used Chalkola pens for these painted rocks
How to make your Christmas Story Stones
I'm going to start of with the most important bit of this craft – don't worry about your artistic skills. Honestly. Despite all the crafty stuff on this blog I am absolutely terrible at art myself and my son's stuff is regularly better than mine. To date, my kids have never pointed out that my art is rubbish and instead have always been really pleased that I've taken the time to make something for them, so please don't let a panic that you can't draw put you off this. Ok, lecture over!
To make these pens I used a mixture of both the normal and earthy coloured Chalkola pens to get the colours that I wanted. I like these pens because they're non-toxic and water based which means that any mistakes can be removed pretty easily with a baby wipe or a wet cloth. I knew that drawing Father Christmas himself was rather out of my league but a Santa hat is enough to give your kids an idea to put Father Christmas into a story, or of course they could use it as a prompt for something else – perhaps the penguin needs a hat!
When you are painting your story stones Make sure you leave time between each layer of paint drying otherwise the colours will bleed a bit. If you want the pictures to last then I would probably advise putting a layer of varnish on top once you are done.
My kids loved playing with these Christmas story stones and made up some great stories about a penguin and a snowman that were best friends! If you make some do let me know what your kids come up with. Love this craft? Make sure that you bookmark this page or pin the image below  so that you don't forget to make it!
Out now! Countdown to Christmas e-book
Got tons of ideas then realised you don't have all the materials or ingredients? I've totally been there too which is why I'm so excited about the Countdown to Christmas ebook which is written by my friend Cerys from Rainy Day Mum. Produced as a pdf that you can download to read or print it's got everything you need in one place to make this Christmas with your kids one that will produce magical memories for years to come.
If you liked these Christmas story stones you might also like my nativity story stones too!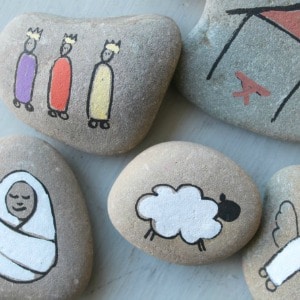 Or you might like these easy heart ornaments
100+ Christmas colouring pages for kids
Disclaimer – I was sent the Chalkola pens to review, all opinions remain my own.