Are you ready for some easy Halloween art? We love making resist art and this simple Bat silhouette craft is perfect for the spookiest time of the year!
Even better, you can make this Halloween craft using our free printable bat template, making it easier for you to spend time with your child having creative fun.

We have included affiliate links to some of the products and resources and as an associate we may earn from qualifying purchases.
What You'll Find on This Page
Bat Silhouette Craft
We've made a lot of resist art crafts but Halloween and bats in particular lend themselves to silhouette crafts perfectly as the end result looks like them flying through the night sky.
I've used blue and white paint to create my dark sky effect but don't worry if you don't have loads of paints to hand, as you start painting you'll find, as I did, that it's easy to mix up lots of shades between the colours to help your picture look fantastic.
About Resist Art
Resist art is where you cover one part of your paper, often using a template or tape and then paint over and around the covered area.
When your template or tape is removed you'll see that the blank space is not coloured while the rest of the art is.
Once you've tried it out it's a really easy craft to do and one that can be used for a lot of themes. It's also a really easy activity for kids as it doesn't require them to be too precise with anything.
If you haven't tried this technique before then I've linked a video to this page which shows it in action, while it's for a different craft you'll still be able to see how the concept works.
Bat Craft Supplies
Reusable plate or tray
Coloured paint – I've used white and blue
Bat template (see below)
Scissors
Free Bat Template
Our free bat template is really popular and perfect for Halloween! You can print as many copies as you like so it's perfect if you'll be making more than one bat for this craft.
What Other Materials Could You Use for Resist Art?
While I've made this craft using pom poms it wasn't actually my first choice. I was originally going to make this with kitchen foil but when I checked in our cupboard we were totally out so I had a look in our craft supplies to see what I could use instead and there the pom poms were!
If you don't have any pom poms at home or would like to try this activity using a different material to do your painting with then any of these would be a great replacement:
Scrunched foil
Sponge
Bath puff
Toothbrush
Duplo
Bubble wrap
How To Make Your Bat Silhouette Craft
Start by printing our your bat template onto paper.

Cut the bat template out.
Using your washi tape make two small loops. You want your tape to hold your template in place but you don't want it to be too sticky otherwise it will be hard to remove the template afterwards or even worse, it might tear your paper. I normally stick mine to my hands a couple of times to remove any stickiness.
The reason that I use washi tape rather than sellotape for crafts like this is that it tends to hold less well, in this case that makes it ideal!

Stick your bat template onto your black paper. My paper is slightly larger than A4 so I've managed to stick two bat shapes on to make my silhouettes but with smaller paper you might only have room for one. Go with which ever option you have.
Pour your paint onto a plate or tray where it can be easily accessed then dip your pom pom into the paint before dabbing it onto your page.
Make sure that all the edges of your template are covered so that when it is removed you will be able to see the bat shape.
Once you have finished your painting carefully remove your template to reveal your bat silhouette.
More Easy Halloween Crafts
Still got some pom poms around? Why not use them to make this easy ghost craft that's super sweet too.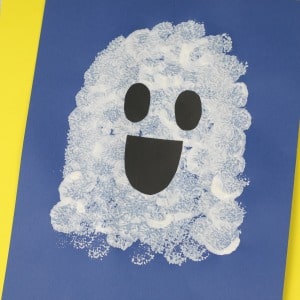 This pumpkin suncatcher makes a great Halloween decoration and as it was made by my son you can be sure that this is a kid friendly craft!

Resist Art Bat Craft
Use our free bat template to make this easy silhouette craft that's perfect for Halloween.
Print
Pin
Rate
Equipment
Black cardstock

Scissors

Washi tape

Reusable plate or tray

Kids paints in white and blue
Instructions
Print out your template and cut the bat shape out.

Use washi tape to make two small loops and use these to attach your bat template to your black cardstock.

Pour your paint onto your plate or tray and then use your pom pom to dab into the paint and then all around your template ensuring that all the edges of the bat are covered.

Carefully remove your template to show your black bat shapes.
Notes
If your child doesn't like getting paint on their hands then you could use a clothes peg to hold onto the pom pom to give them that extra bit of space.
This craft can lead to messy hands or fingers so be sure to keep a wet cloth or similar close to hand to help clean up if you need to.
Tried this?
Mention @craftsonsea - we'd love to see and maybe share it!