You know how sometimes great ideas pop into your head? Well ten minutes before I was due to pick up my son from playgroup I had this idea for this easy autumn tree craft and I knew we had to make it. Thankfully it was stupidly quick to prepare and it made the journey back from playgroup much more fun so I thought that I would share it! I've also shared some of our favourite autumn crafts for kids at the end of this post so make sure you check those out too.
Autumn Tree Craft Materials:
*I have included links to affiliate programmes in this post if you click on these and buy I may earn a small commission*
Contact Paper / Sticky Back Plastic
Brown paper (I painted some in a rush before I went out!)
Bucket or bag for collecting leaves
How to make your autumn tree:
I grabbed my son's bucket before leaving the house and told him that we needed to collect lots of pretty leaves on the way home so that we could make a tree. He was a bit hesitant at first (him: mummy are these leaves dirty? Me: errr….no??) but was soon racing from tree to tree to find some more. This obviously has a big bonus side effect of actually moving forward on the way home from playgroup.
Once we were at home I stuck the sticky back plastic to a window with the sticky side facing into the room. The corners are held in place with washi tape. I then cut out a tree trunk shape and stuck this onto the sticky back plastic.
I then invited The Toddler to come and use his bucketful of leaves to make an autumn tree, great fun! His sister wanted to join in too, but frankly her main interest at 11 months was in eating the leaves so we tried to steer her clear a bit! The sticky back plastic will hold leaves as long as you push them on firmly, sycamore seeds were a bit more tricky so I don't think I'd try acorns or conkers.
Obviously you could do this on a wall rather than a window but my son thought it was hilarious to run outside and view it through the window. Toddlers are funny little people! If you wanted to save it you could then stick it onto a large bit of paper or wallpaper so you could hang it up somewhere.
More Autumn Craft for Kids:
We've got four autumn tree painting ideas for you as well as a free printable tree template to try them out with.
My kids adored making these pretty autumn leaf suncatchers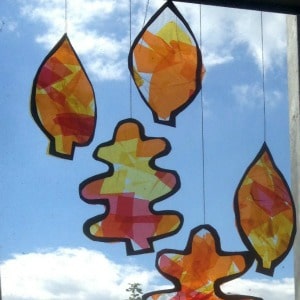 These balloon printed apples are a really fun and unusual painting technique