I am not even remotely ashamed to admit that I am a bit of a washi addict. It's so pretty!! A few weeks ago my friend Gude from Hodge Podge Craft opened her new online shop The Paperdashery which sells all sorts of gorgeous things for creating beautiful Happy Mail. She asked if I'd like to review a few bits and I jumped at the chance. Unfortunatly at this point my beloved son saw what I was looking at and got excited about getting some washi tape himself. Foiled! Still, as I'm keen to introduce my kids into the world of washi I thought it would be nice to try out some washi tape cards that kids can make and as I've spent far too long looking at pretty things myself I thought I'd also share some fabulous ideas that I found from other bloggers too.
What You'll Find on This Page
You will need:
We used these Aperture cards which come in a Thank You, Happy Birthday or star design.
Washi Tape – We used this blue and this orange tape, both of which were chosen by my son
How to make your washi tape cards:
I loved these little cards because they make it so easy for kids to make something that looks really professional! There is a bit of white card that you can remove from the inside and this is the bit that your kids can cover in washi tape.
Both tearing and sticking is great for promoting fine motor skills and who wouldn't want to recieve one of these sweet cards in the post? They're a fantastic creative way to say thank you for birthday or Christmas presents and most importantly my kids adored making them as opposed to baing forced to write a thank you!
Just to give you some idea of what is achieveable for your kids, the black card was made by my son and the brown card was made by my daughter who is 23 months old.
More Washi Tape Cards Kids Can Make
Got the washi bug? Why not check out these cards made by Crafts on Sea and some of our friends?!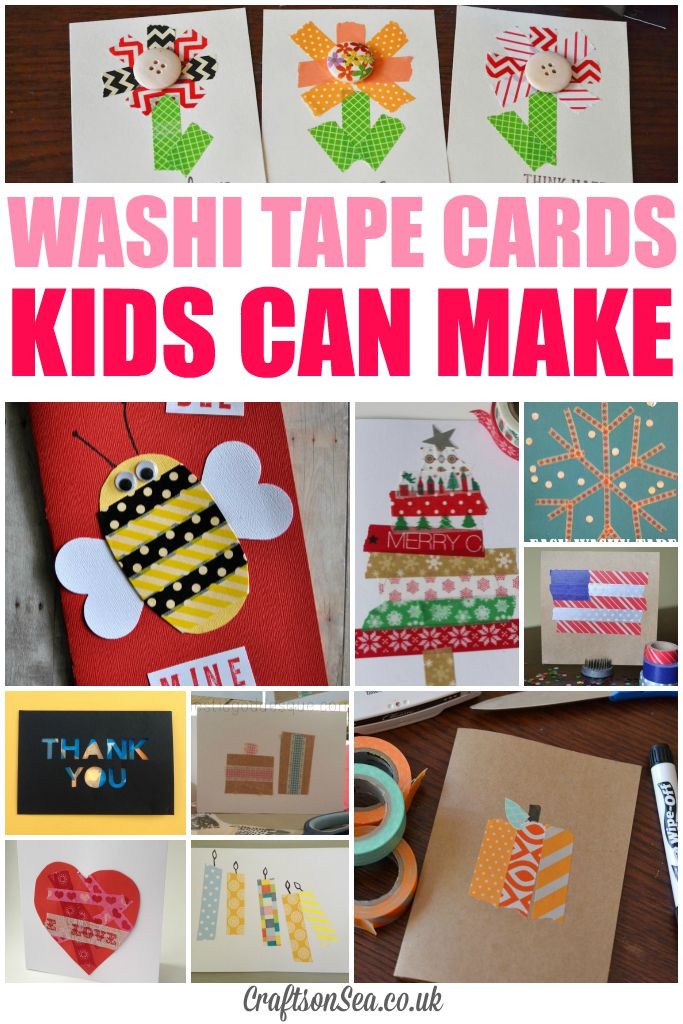 Washi Tape Christmas Tree Cards
These Thank You Cards
These cards would be great for birthdays, Christmas or as a thank you.
Washi Tape Candle Birthday Card
Many thanks to Gude for sending us these gorgeous bits for free, do go and take a look at her shop – I think I'm kinda in love with the dinosaur washi?
Love washi? Make sure you follow my board for more inspiration!
Follow Kate Williams CraftsonSea's board Washi Tape Craft Inspiration on Pinterest.