This easy sea turtle craft is perfect as a simple summer craft or if you're looking at under the sea crafts for kids.
Using paper plates make it a cheap option to do with a group or of course you can make it at home and just be happy that you didn't need to but 265 new things just to make one craft (we've all been there at one point right? My kids love Pinterest but my bank balance? Not always so much…)
I've used cotton wool for this craft as a nice alternative to a paint brush that can help encourage your child's pincer grasp but you'll find a couple of alternatives below too if you don't have any cotton wool balls at home.
Like this craft? Make sure that you bookmark this page or pin an image so that you've got it to hand when you need it, plus keep reading for more easy sea crafts for kids.
What You'll Find on This Page
Sea Turtle Craft Materials
A paper plate
Green card or paper
Sellotape / glue
Scissors
Cotton wool
Green and yellow paints
Reusable plate
White scrap paper
Black pen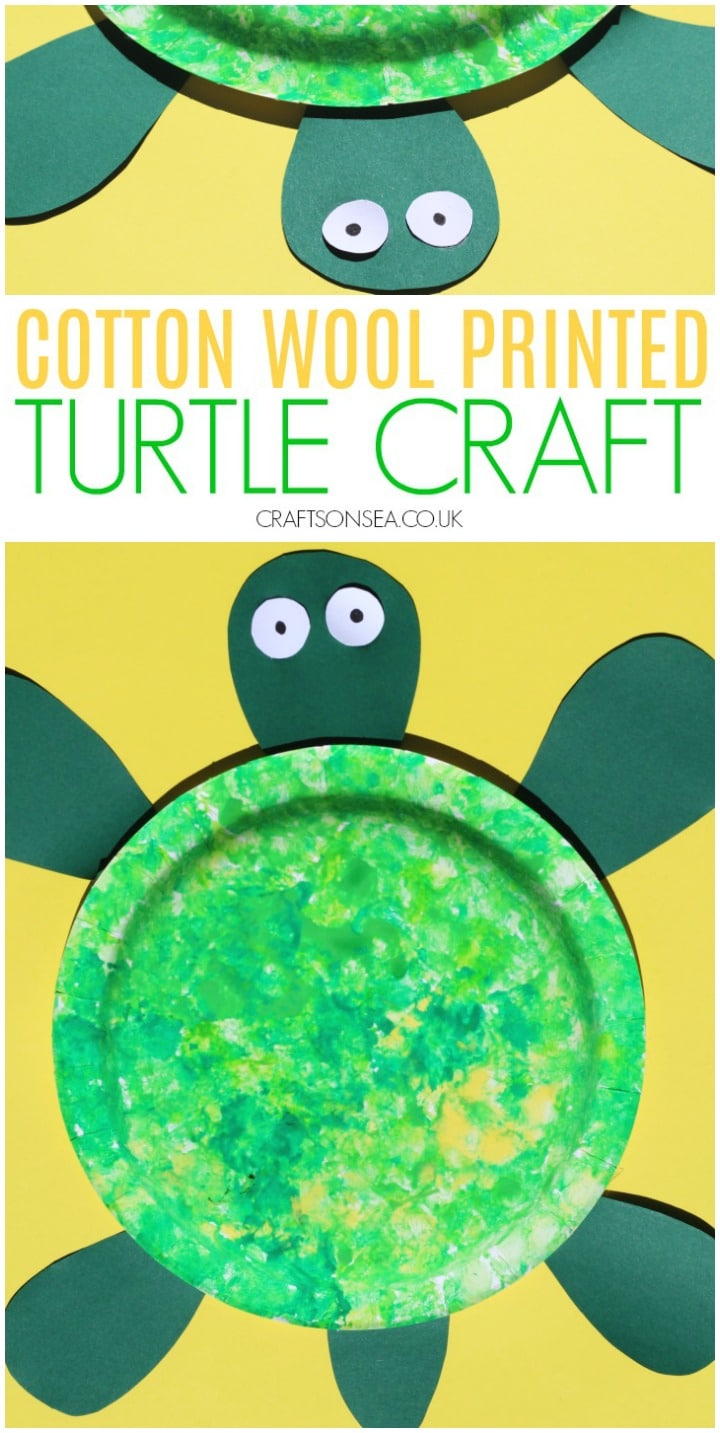 Sea Turtle Craft
Start by painting your paper plate. Pour some paints onto a reusable plate (we use an old camping one) and then pinching the cotton wool get some paint onto the cotton wool and then dab it onto your paper plate until it is covered.
Not got any cotton wool? You could use a pom pom, or some kitchen foil or if you don't mind messy hands then why not do this as finger painting?
If your child doesn't like getting covered in paint (and lots of them don't, mine are a bit feral though and always end up looking like the Hulk or a smurf) then you could use a wooden clothes peg to hold onto the cotton wool so they can hold that instead. Same painting effect, less messy.
Once your paper plate is dry cut out your turtle's flippers, head and tail from green card or paper and stick these onto the bottle of your paper plate.
To make your turtle's eyes cut two circles out from white scrap paper and stick these onto your turtles' face and then draw a black dot in the middle of each of them.
More Easy Sea Crafts for Kids
This paper plate sea collage is perfect for younger kids to make.
These sea themed painted rocks are perfect for story stones or you can use them as inspiration for making painted rocks to hide.
The Snail and The Whale is one of our favourite stories and this paper plate craft inspired by it allows you to make your whale 'swim' across the ocean.