Are you looking for a free printable turkey template? Our PDF is perfect for crafting with your kids or using as a simple coloring page.
Turkey crafts and activities are really popular at Thanksgiving but you can also use them as part of a farm topic.
Our simple template is perfect no matter what your reason and as always we'll be sharing lots of craft and activity ideas that you could do using it.
We have included affiliate links to some of the products and resources and as an associate we may earn from qualifying purchases.
What You'll Find on This Page
Free Turkey Template
Thanksgiving is a really fun time but it's also one when a lot of people are busy getting everything prepared.
No matter if you need a simple turkey coloring page to keep your kids busy while you're busy too or if you want an activity you can do together during this special time this printable is a great way to help you.
You can download this template for free and as you can print as many copies as you like it's perfect for using in a classroom or kindergarten for your Thanksgiving crafts as well as at home – after all no one wants to draw out thirty different turkeys!
Turkey Craft Ideas
Coloring –  This printable would make a great turkey coloring sheet, all you need to do is grab your favourite markers, crayons or coloring pencils. Printing this out would also make a nice simple activity for a group (perfect if you need a moments peace!)
Make a thankful turkey –  This has to be one of our favorite Thanksgiving activities as it's a great way to encourage kids to think about the meaning behind the day. Colour in your turkey (or leave it bank, your choice) and then on each feather write or draw something that you are thankful for.
Cut out the turkey's body – Of course you don't need to use the whole of the turkey in this printable! Why not cut out the turkey's body and then use something else to make the feathers? You could use colorful leaves from your garden or use construction paper to make colorful feathers.
Paper plate craft –  For some Thanksgiving fun that will make a great keepsake too follow our tutorial to make this easy handprint paper paper plate turkey craft. I love to keep crafts like this so that I can see my kids little handprints!
Handprint craft –  Or skip the paper plate and just make your handprints straight onto paper!
Gluing feathers –  Use glue to stick colored feathers onto your turkey. If you want to try this craft you might want to print your template onto cardstock rather than paper to make it a little more durable with the weight of the feathers.
Make a paper garland –  You could print several of these turkeys and then turn them into a garland for a cheap and simple Thanksgiving decoration, especially if you color them first. Just cut out the turkey shape and then use tape to attach the back of each one to some string before hanging them all up.
Q-tips –  Pour a little paint into a dish or plate and then dip a q-tip (cotton bud) into it before dabbing it onto your turkey's feathers to color them in with lots of little dots. You could stick to one color or use different q-tips for different colored dots.
Painting with feathers –  We made these feather painted turkeys a few years back and while the materials were obviously a little different for those you could still dip a feather in some paint before using it to decorate your turkey's feathers. We found it made a fun alternative to using a paintbrush.
More Turkey Crafts For Kids
This paper plate turkey craft is great for preschoolers and uses pom poms to paint your turkey's feathers. I've shared a video to this page so you can see this craft in action if you would like.
Or why not try making this paper bag turkey craft using colored foam or card.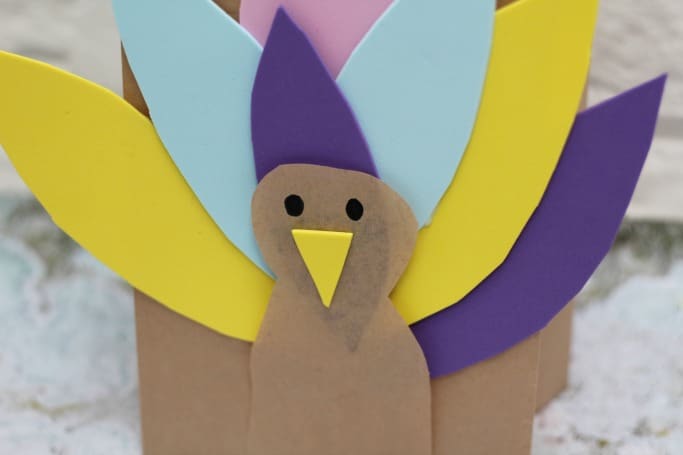 This cut and paste turkey craft is one of our newest printables and it's perfect for a craft project that's both quick and easy to set up and great for helping with scissor skills too.
How To Get Your Free Printable Turkey Template
To get your free turkey template printable just subscribe below in the box. We won't send you spam and you can unsubscribe at any time.
Once you've confirmed your email address your template will be delivered to your inbox as a free gift.