My kids love to make some Halloween decor every year for our home and this paper plate spider web craft with it's cute little spider hanging down was actually my son's idea.
Making a paper plate twirler like this one is a great way for kids to practice their scissor skills and you can use our free spider template too so you don't need to worry about drawing a spider yourself.

What You'll Find on This Page
Paper Plate Spider Web Craft
Paper plate twirlers are a great craft to make with kids. Not only are they good for practicing using scissors, they're something that your child can play with too making the spiders bounce around your home or you can hang up your finished Halloween spider for a bit of spooky decor.
Of course paper plate crafts are normally pretty cheap to make as well, always a factor especially if you are making this in a classroom or preschool and need to budget what materials you need!
Free Spider Craft Template
You can of course draw a spider yourself but if you'd like to use ours then make sure you check out our free spider template which has five different designs including this spider and a web.
It's perfect if you need a lot of spiders as you can print as many copies as you need. Please be aware though that the PDF has a full size spider so when you print it you will need to change the size in your printer settings – I printed mine at 40%
Spider Craft Materials
Spider template
Paper plate
Coloring materials (markers, crayons or coloring pencils)
Scissors
Black marker pen
Double sided tape
Optional – yarn or string
How To Make Your Paper Plate Spider Twirler
First print out your spider template onto white paper. I've printed mine out at 40% of the normal size so it won't look too big for the spiderweb.
Next color your spider in. You can use whatever coloring material you like for this, I've chosen a purple coloring pencil which allows you to see the spider's little smile but mainly because I discovered my kids had used up all the black coloring pencils. Situation normal for here then.
Cut out your spider. Obviously the spider legs are a bit fiddley for this so this part is likely to be a job for grown ups to do with kids practicing their scissor skill on the paper plate instead.
Next up is cutting the paper plate itself. Start at the outside and cut a spiral shape towards the middle stopping when you get close to the centre.
With your black marker now draw spider webs onto the paper plate and then stick your spider onto the bottom of the spiral so that it is hanging from the spiders web. I've used double sided tape for this as it's great at holding things in place and unlike glue you don't need to wait for it to dry.
If you would like to hang your paper plate spider web up then you can do so by attaching a length of yarn or string to the centre of the plate.
More Easy Halloween Crafts for Kids
We have loads of spider crafts for kids but if you'd like to try something different to add to your Halloween craft collection why not check out one of these?
This ghost craft is super easy to make and is always popular.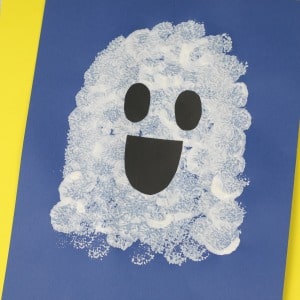 How about making a paper bag mummy? You can use this craft as a puppet as well.
If you love paper plate crafts then why not check out our paper plate witch with her 3D nose.