Are you looking for a free printable penguin template? Our PDF is perfect for crafting with your kids or using as a simple coloring page and with two different designs you can choose the one that's best for your and your child's needs.
Penguin crafts and activities are really popular during winter and Christmas and you can also use them as part of a animal or zoo topic.
Our simple templates are perfect for using no matter what your reason and as always I'll be sharing lots of craft and activity ideas that you could make using it.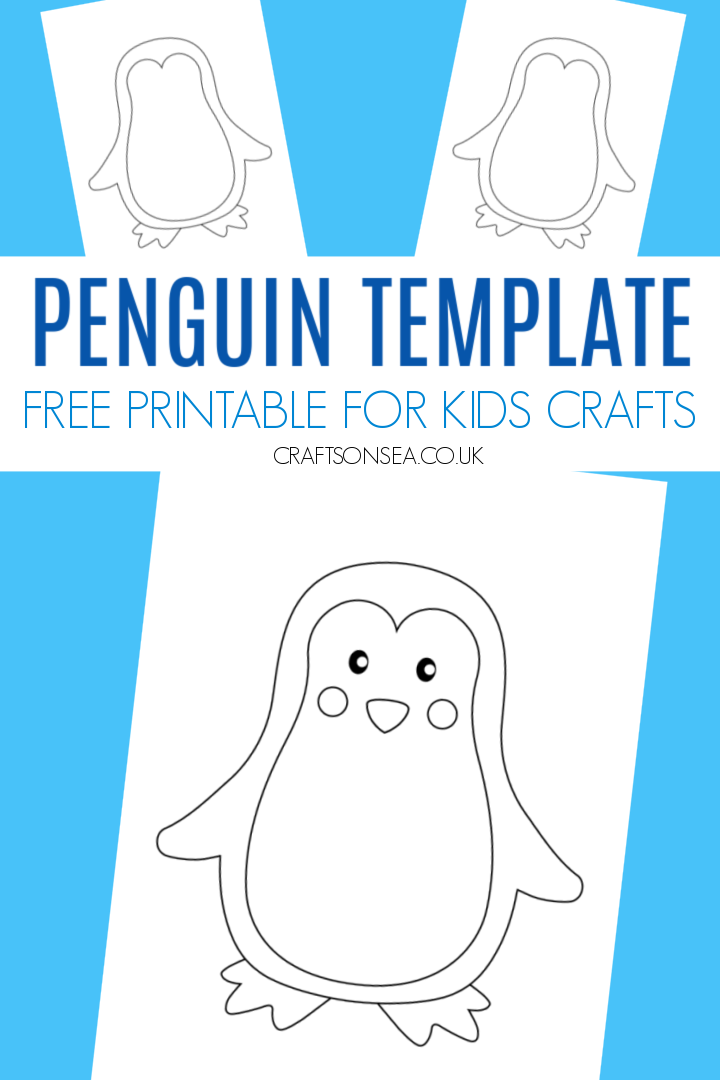 RELATED POSTS: Free Templates for Kids Crafts
We have included affiliate links to some of the products and resources and as an associate we may earn from qualifying purchases.
What You'll Find on This Page
Penguin Template
At this time of the year I know I'm never super keen to spend out on a load of new crafts supplies so I've tried to share some easy penguin craft ideas using materials that hopefully you already have to hand – lots of paper, paint and glue!
Penguins are a great topic for making a fun winter craft and if it's cold outside then they're a great excuse to stay in.
This penguin craft template is designed to be nice a simple so you can use it with school age kids, toddlers or those in kindergartens or preschools – just choose an activity that suits their age and interests.
There are two different designs you can download, one with a basic outline shape and one with eyes, cheeks and a beak too.
You'll find both of them on the PDF and you can just print the one that you'd prefer to use.
You can get these templates at the bottom of this page by subscribing the free Crafts on Sea newsletter, we won't spam you and you can unsubscribe at any time – we do send lots of printables like this though which are perfect for keeping your kids entertained!
Penguin Books For Kids
Whether you're looking for some sweet fiction or something to help your child learn more about penguins there are loads of books that are perfect to share with kids.
Plus if the weather outside is less than awesome what could be nicer than snuggling up together after your activity to share a book together? Here's some of our recommendations.
More Winter Craft Templates
All of these printable templates are perfect for making some winter crafts together and with each PDF you'll find some ideas for ways to use it too.
What Should I Print My Penguin Outline On?
For most crafts and activities normal printer paper is fine but if you choose to make a craft where your child is likely to use a lot of paint or glue then I'd recommend opting for cardstock instead.
Penguin Craft Ideas
Coloring
Coloring is always the easiest idea and there's absolutely nothing wrong with that! Grab your markers, coloring pencils or crayons and use these as penguin coloring pages.
Cotton Balls
Choose your printable template and glue cotton balls onto your penguin's belly for a cute craft that feels nice too! You can use PVA (school glue) or a glue stick for this activity.
Torn Paper
Leave the scissors behind and use torn paper to color in your penguin. You can use black construction paper or  this is a great way to use up any scrap paper you have and it's good for fine motor skills too.
If you want to create a white tummy for your penguin using this technique then you could print your template onto some pale blue paper.
Pom Pom Painting
Check out our easy penguin craft that uses pom poms and bubble wrap to paint with.
Drawing Prompt
Why not add a background to your picture? You could draw in snowflakes falling or some friends for your penguin.
Paper Bag Puppet
Color in your penguin then using scissors cut around the outline for your template before gluing it onto a paper bag to make a simple puppet to play with.
Design Your Own Penguin
Make some super cute penguin crafts by designing one yourself! Add your own eyes and beak to create your own penguins face.
You could also use this printable to create a penguin playdough mat making the features out of playdough and using black playdough for the outside of your penguins body.
Don't forget to add an orange beak and some pink cheeks too! If you want to do this you might want to laminate the template so that you can use it more than once.
More Penguin Crafts for Kids
This paper plate penguin craft uses craft sticks to make your penguins movable! Make your penguins dance along to their own version of Happy Feet following our step by step tutorial.
Make a cute penguin card that would be perfect for Christmas or just as some cute artwork (and this is a good kid craft for practice for using scissors too!)
How To Get Your Free Penguin Template
To get your free penguin PDF just subscribe below in the box. We won't send you spam and you can unsubscribe at any time.
Once you've confirmed your email address your template will be delivered to your inbox as a free gift.
Please make sure to check ALL your email folders for the confirmation email and make sure you press the confirm subscription button