While my kids were homeschooling we learnt about the rainforest and jungle so making a rainforest animal craft seemed like a pretty obvious choice and this paper plate snake was an easy idea that I knew they'd both be able to make and enjoy despite the difference in their ages.
Paper plate snakes are a bit of a classic craft and I'm not sure who came up with them originally but there are lots of variations on the theme, we've made toilet roll snakes before when my son was in preschool and however you choose to create them they're a great way for kids to practice scissor skills.
This snake craft uses pom poms for a simple painting technique that both my kids genuinely really enjoyed and that's also good for supporting fine motor skills too.
What You'll Find on This Page
Paper Plate Snakes
I'm a huge fan of paper plate crafts because they're a really easy way that you can get creative with kids. As a craft supply they're one that either many people have at home, left over from parties or in the back of their craft supplies, or they're one that's really easy to get hold of.
Many supermarkets stock them cheaply so they're fine for picking up with your food shopping rather than having to wait for an expensive online delivery.
Of course crafting with my kids meant that I started with one idea, which is the tutorial I'll be sharing here, but being kids of course they had to go one extra and add their own creativity to the project.
I've therefore included pictures of their finished craft as well so you can see how they adapted this to make it something that they enjoyed too – honestly we had so much fun with this!
Craft Supplies
Paper plate
Scissors
Pom poms
Paint
Plate or tray
Red and white cardstock
Black marker
Glue or double sided tape
Optional – string and tape
Snake Paper Plate Craft
Both my kids (6 and 9) followed the instructions to make a paper plate snake below but changed a couple of details to make their own crafts unique.
Start by using scissors to cut a spiral shape into your paper plate. You can do this with either a thick or a thin gap between each part of the spiral. Make sure you leave enough room to create the snake's head in the middle.
We tried to do ours a few centimeters wide so that the snakes would 'drop' when we held them up but also would't unravel too much.
Pour some paint onto a plate or tray and dab your pom pom into it before dabbing it onto your paper plate craft to color it in.
If your child doesn't like getting their hands messy then you could use a clothes peg to hold the pom pom.
I originally started making a more traditionally painted snake craft myself using bronze and green paint but I preferred the brighter colours my kids used so I changed mine to be more like theirs with purple, blue and red too.
My daughter didn't make a snake, she made a "kitty-unicorn snake" complete with unicorn horn and cat ears. I absolutely love the rainbow horn on this!
Once your snake craft is dry you can add some features to it. For my craft I cut the snake's tongue out of red cardstock and made the eye's out of white cardstock using a black marker to draw in the pupils. If you have googly eyes at home then you could also use these.
My son added fangs to his snake and if you want to make these or the kitty-unicorn all you need to do is grab some cardstock (ours was left over paper plate) and cut out the shapes you need leaving a fold at the bottom.
We then stuck these onto the paper plate using a small bit of double sided sellotape. My son also did his snake's tongue underneath the snakes head rather than the easier version which I've used.
If you would like to hang your snake up, or even just play with it, then use tape to add some string or yarn to the back of your snake's head.
More Paper Plate Animal Crafts
We've shared a lot of paper plate crafts for kids and these are some of our favourites that I hope you'll enjoy too.
Use torn paper and old newspaper to make this paper plate bee.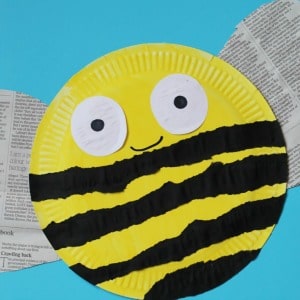 This paper plate ladybird can be made alongside reading What The Ladybird Heard or just as a cute animal craft.
Reuse your pom poms to make this paper plate cow craft.
Paper Plate Snake
Make a simple snake craft for kids and let them choose how colourful they want to make it.
Print
Pin
Rate
Equipment
Coloured paints

Reusable plate

Pom poms

Scissors

Glue or double sided sellotape

Black pen
Materials
1

Paper Plate

Scrap paper or card
Instructions
First cut your paper plate into a spiral shape cutting from the outside in. Make sure you leave enough space in the middle of your paper plate as this will be your snakes head.

Pour some paint onto a plate, this makes it easier to dab your pom poms in it.

Dab the pom poms into the paint and then dab them onto your paper plate to colour it in. We used different sizes of pom pom and different colour paints to get different effects.

Leave your snake craft to dry.

Once the paint is dry cut out some circles from scrap card or paper. If you've used strong colours this may show through white paper and for that reason we used bits of a discarded paper plate.

Draw black dots into the centre of your circles to make the snakes eyes and cut out a tongue shape from red paper or card.

Glue the eyes and tongue onto your snake.
Notes
We cut our spirals into our paper plates before we started painting but you might find it easier to paint first and then cut the shape out afterwards. The reason we did it this way was that if the cutting went wrong at all then there wouldn't be as much of an issue as if we had finished our painting.
If you don't have red paper or card for your snakes tongue you can use white scrap paper and colour it red with a pen.
Tried this?
Mention @craftsonsea - we'd love to see and maybe share it!