I love monster crafts because although you are ultimately making something that looks like a monster there's so much scope for kids to make it look however they want. Want to have three eyes? That's fine. Horns or a beard? Go for it, it's hard to make a monster that looks too crazy!
These paper bowl monsters are super simple to make and loads of fun too and you'll also find some monster book recommendations to read alongside this fun craft.
We have included affiliate links to some of the products and resources and as an associate we may earn from qualifying purchases.
While I've used paper bowls for this craft you can totally use the same idea to make a paper plate monster craft instead – just go with whatever materials are easiest for you to get hold of or what you already have at home.
What You'll Find on This Page
Monster Crafts
If truth be told the thing that inspired this craft was my kids bedtime, because there's nothing like bedtime to start worrying about monsters is there?!
When my daughter started complaining a couple of weeks ago that she was too scared to sleep because, you know, monsters I decided to give it a bit of an unconventional approach. Mainly because it was my second child (aka the one who has never slept) and I thought it was worth trying something other than night after night of trying to calm her down.
So instead I gave her a look, raised my eyebrows and told her 'Girls aren't scared of monsters! Girls kick monsters in the butt!' So there we go, probably one of the many reasons why this blog is more full of craft ideas rather than parenting advice as I now have a four year old who will yell out 'girls kick monsters in the butt!' whenever prompted but at least I don't have any bedtime monster fears!
Monster Craft Materials:
Paper bowls
Paint
Coloured card or paper
Scissors
Glue
Paper Bowl Monsters
Start your craft by painting the underneath of your monster – go with whatever colour you fancy or maybe even use a couple. Once your paper bowl is dry it's time to decorate it. If you don't fancy getting the paints out then you could always use one coloured paper bowls or plates instead.
For eyes I've cut circles out of white card and used a black pen to make pupils in the middle.
The horns and spots are from some leftover orange card I had, this is a really good craft for using up any scraps that you have, other things you might like to add are eyebrows, fangs, coloured eyes, noses, ears or spikes.
For the mouth I've cut two ovals out of black and white card (holding them together while you cut them out) before cutting the teeth shape out of white card as this makes them fit back together better afterwards, you could always just cut out some white card and then draw in the black bits though.
Glue all of your eyes, teeth, horns or whatever else you can imagine onto your monster until it is ready to display.
Monster Books for Kids
I love teaming a book up with a craft and this activity is the perfect excuse to take a look at some monster themed books for kids.
Easy Halloween Crafts for Kids
Halloween crafts are some of our favourites to share, especially the easy ones! Why not try some of these out with your child and make a day of creating some spooky fun together.
This easy ghost craft really is super simple to make and with over 100k saves on Pinterest it's super popular too, make sure you give it a try!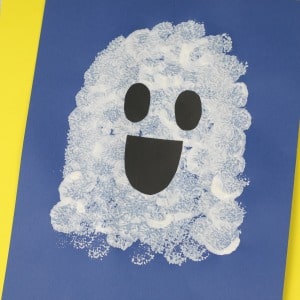 This pumpkin suncatcher is one that I made with my kids, it's a good way to practice scissor skills but even more importantly we had a lot of fun making it.
Love raiding the recycling for craft materials? Us too and this paper plate witch craft uses an egg box to make its 3D nose!