I love sharing simple ideas that kids really can achieve and this easy spider craft for kids is one that's perfect for Halloween!
Not only is this craft cute (well I think so anyway!) but it's really easy so it's a great craft for preschoolers too and you could use it as a way to help kids with their scissor skills or pincer grasp. Or you could just make it because you love spiders, your call.
We have included affiliate links to some of the products and resources and as an associate we may earn from qualifying purchases.
What You'll Find on This Page
Easy Halloween Crafts
My kids have always loved making Halloween crafts and particuarly this year when we won't be trick or treating it's something we'll probably do even more of.
Like a lot of parents I've definitely had the experience when my kids have picked a kids craft off Pinterest that they want to do but it's just been way too hard for them.
With that in mind I've tried to keep this spider craft as easy as possible, although younger kids will still need a bit of help with cutting and actually sometimes my kids like to have a hand just because crafting is a nice thing to share too!
Using a pom pom is a really good way to do painting like this with kids because it really doesn't matter if they don't form the perfect circle, as long as you can get all the bits painted and glued on the paper it will still look pretty much like a spider.
Tip: If you want to get a round shape for your spiders body you could draw a circle in pencil on your paper and get your child to paint inside that.
Like this post? Make sure you bookmark it or pin an image so you don't forget abut it. Plus check out more easy Halloween craft ideas below.
Spider Books for Kids
I'm always a fan of when you can match an activity up with a story to share afterwards and I think although Halloween is meant to be scary it's also quite nice to share some spider books in which the spiders aren't terrifying – or at least teach them the facts.
Obviously not all spiders are friendly so if you do live in an area with poisonous ones then you will need to change your approach here accordingly! Thankfully where we live the worst thing we get is a bit of a fright.
We've shared a lot of ideas for Halloween books for kids with this list of not too spooky Halloween books for kids and these pumpkin books but if you'd like some more inspiration why not check these books out.
Easy Spider Craft for Kids
This simple spider craft is perfect for preschoolers and younger kids to make.
Print
Pin
Rate
Equipment
Reusable plate

Clothes peg

Black paint

Glue

Scissors

Black pen
Materials
Coloured paper or card

for the background

Black cardstock

White scrap paper or card

Pom pom
Instructions
Pour some black paint onto a reusable plate.

Use the peg to hold onto the pom pom and dip it into the paint.

Make a circle shape using the pom pom dipped in the paint and fill in any blank spaces.

While the paint is drying cut out the legs, mouth and eyes using black cardstock for the legs and mouth and white scrap paper or card for the eyes. Cutting the rectangle shapes out for the legs can be good scissor skills practice for younger kids while the eyes and mouth are obviously a bit harder.

Using a black pen make a dot in the middle of the spiders eyes.

Glue the legs, eyes and mouth onto your painted circle.

Your spider craft is finished!
Notes
I've used quite a small pom pom for this craft because that's what we had at home but you may find it better to use a larger pom pom as these can be easier for the peg to grip.
Likewise you don't actually need to use a peg at all and you can just use fingers to grasp the pom pom but the peg can be helpful if your child doesn't like to get their hands messy.
Tried this?
Mention @craftsonsea - we'd love to see and maybe share it!
More Halloween Craft Ideas
Keep the pom poms out! Make this easy ghost craft too and get two simple activities done at once (my kids always go through about five crafts straight after each other once they're in the mood for it!)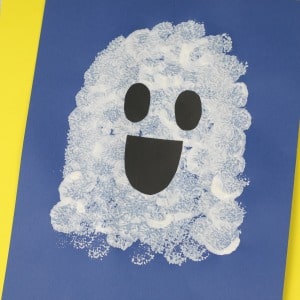 This stained glass pumpkin suncatcher was really popular with my kids and is a good way to discus colour mixing too.
Grab a paper plate or bowl and make this easy monster craft for kids.