Oh how cute is this ghost puppet! And so simple, right?
Being totally honest with you, although I often share crafts for toddlers and younger kids a lot of it is because I often find stuff that my kids see on Pinterest is just too hard for them to actually make – my six year old wanted to make something this weekend and made me look up ideas on there and wow that was hard work!
I'm a huge fan of achievable and as this craft has been tried and tested by my kids already I know it's simple enough for children to make and they had fun playing with it afterwards too.
Anyway, enough of me blathering, lets get on to the very quick and simple tutorial shall we?!
As usual, if you like this idea do make sure you bookmark or pin an image from this post so you don't forget about it plus keep reading for more easy ghost crafts for kids.
To make this easy ghost puppet you will only need a few things, a white paper bag, some scrap paper or card, a pen and a pair of scissors. Arguably the scissors are optional, I just likes the effect it gave and it's a good way to practice your child's scissor skills.
Start by cutting a wobbly line across the bottom (open end) of the paper bag. Not essential at all but I think this makes it look more ghostly!
Next draw on the ghosts face, you could use coloured pens for this if you liked but I've gone with black.
Finally cut out some hands from scrap paper or card and stick these on to your ghost. Once it's dry it's all done and ready to play with!
More Easy Ghost Crafts for Kids
This easy ghost craft is perfect for toddlers and preschoolers and has been massively popular – plus it's super cute!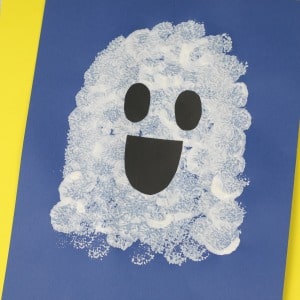 We love paper plate crafts and this movable ghost craft is one that your kids can make 'fly' across the sky.
I made this sweet salt dough ghost keepsake with my kids, little feet are too cute!