Whether you're a big fan of Bambi or looking to make some easy woodland animal crafts, this free deer template is the perfect way to encourage some creativity in your child.
What You'll Find on This Page
Free Deer Template
In this PDF pack you'll find three different designs so that you can choose the one that's right for the craft project you have in mind.
The first image is an outline of a deer with antlers and the second one is the same outline but without antlers. Both of these are perfect if you want to add your own ideas to them.
The final image is of the deer with some details drawn in which you can see above and this one is perfect for coloring.
More Free Forest Animal Templates
We've shared loads of free templates that are perfect for kids art and crafts and in each case you'll find some ideas of ways that you can use the outlines too.
If your child is interested in forest animals or if you're learning about them in a preschool or classroom why not check out some of our other free PDFs.
Deer Craft Ideas
Coloring
This is always the first idea that I recommend because it's so easy to set up and it's normally such a popular activity with kids too.
Just choose your favorite markers, coloring pencils or crayons and you can color in your deer, you could color in a woodland background for it too if you like.
Tissue Paper
Cover your deer template in glue and then tear or use scissors to cut brown tissue paper into pieces before sticking them onto your template to color it in.
Leaves
This is a similar idea to using tissue paper but if you are learning about woodland animals why not make the most of some free craft supplies that could be found in the woods themselves?
You could tear or crunch brown leaves up before gluing them onto your deer, this would be a great excuse to get outside to look for materials too.
More Woodland Animal Crafts
This cute handprint hedgehog craft is another one that uses one of our templates that are free to download. I made this with my daughter and it was a lot of fun as well as giving us the opportunity to look at how the colors mixed together.
We've made owls out of toilet rolls before (I think they're a bit of a classic craft) but for this activity we've used toilet rolls to paint feathers for this simple owl craft that uses the printable I've linked to above.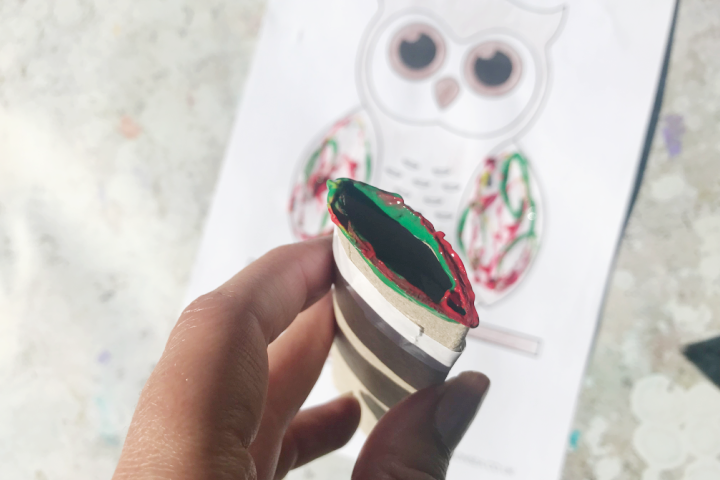 How To Get Your Free Printable Deer Template
To get your free deer templates just subscribe below in the box. We won't send you spam and you can unsubscribe at any time.
Once you've confirmed your email address your template will be delivered to your inbox as a free gift.
Please make sure to check ALL your email folders for the confirmation email and make sure you press the confirm subscription button.