Black glue is a really fun material to play with and this easy black glue autumn tree craft is a great way to use it to create a fun autumn craft that shows off the colours of the season and using watercolours means you get a great effect seeing the colours mix.
What You'll Find on This Page
Black Glue Autumn Tree Craft Materials:
*This post contains affiliate links*
White paper or card
Black glue
Watercolour paints
Let's Make It:
Start by drawing an outline with your black glue. Black glue is really easy to make yourself but you can also buy it online if you don't fancy making it.
You'll need to then wait for the glue to dry so this is a good activity to start and then finish a little later – you could always do some of the autumn crafts I've linked to at the end of the page if you're on a bit of a crafting roll!
Once it's dry (or at least dryer, we always struggle to wait) you can paint your tree. I've used cheap watercolour paints which I think only cost a pound but they're perfect for mixing together with some water. Use brown for the trees trunk and reds, greens, yellows and orange for the leaves themselves.
Like this idea? make sure you don't forget it by bookmarking this page or pinning an image.
Want more autumn craft ideas for kids? make sure you check out our favourites below.
Autumn Crafts for Kids:
These autumn leaf suncatchers are always super popular and look great hung in a window.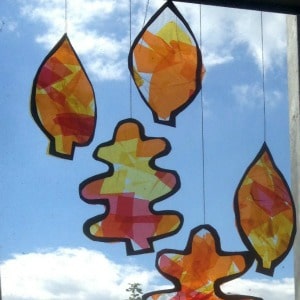 Or this fun apple tree craft is perfect for helping with fine motor skills.
Finally this apple craft uses a really fun painting technique – can you guess what it is?!