I love how cute these sweet weather suncatchers look and the great thing about them is they're super simple to make using some stuff I grabbed from our recycling bag! Pop them up in the window and these remind me of stained glass suncatchers – though of course they're a lot safer and easier for kids to make which means they're a lot better for parents too!
What You'll Find on This Page
Weather Stained Glass Suncatchers Materials
*This post contains affiliate links*
Plastic lids
Double sided selotape / washi tape / Blutack
Let's Make It!
If you'd like to see how I created these suncatchers I've made a little video for you which you can watch below. Prefer written instructions? No problem at all, you'll find them underneath as well as some more fun ideas for kids crafts.
There are two ways to make these suncatchers, the first as shown in the video is to colour in the area using a pen, I found in making these that the colour was much brighter using Posca pens (which we also use for rock painting) and another benefit of this is that unlike with permenant markers, if you do make a mistake you can normally scratch it off. For the sun suncatcher I coloured the whole area yellow and then turned the plastic lid over to do the black and pink detail on the other side.
For the rain and rainbow suncatchers I drew out the details in black first before adding the colours. For the rainbow in particular you will need to allow a moment for the colours to dry so that they don't bleed into each other. If you want to do the faces on the weather symbols you can either draw these on first and colour around them, which is what I originally did but it's a bit trickier, or turn them over once you are done and draw the features on the front.
Like this post? Make sure that you bookmark this page or pin an image so that you don't forget to make it. Want more fun weather or suncatcher crafts? Check out the links below for more inspiration!
More Craft Ideas For Kids
These autumn leaf suncatchers use a different technique to give a stained glass suncatcher effect and they're one of our most popular crafts, my kids made them and they were up in our windows for ages!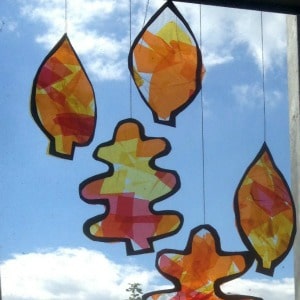 This doily sun craft is super cute and cheap to make too
These snowflake twirlers would look great hung up in a classroom