We've shared quite a few Supertato activities before and in all honesty I love seeing how popular they are because it's one of my kids favourite books and it's one of my favourites too. Of course we all love Supertato himself but I think you have to love the Evil Pea too?! Personally I'm a great believer that some vegetables are frozen for a very good reason and I know that if I was writing about an evil vegetable I'd probably have to go with a pea too!
What You'll Find on This Page
More Supertato Activities and Crafts
*I have included links to affiliate programmes in this post if you click on these and buy I may earn a small commission*
As well as our paper plate craft you'll find more ideas for Supertato themed activities and crafts at the end of this post as well as links to some of our other favourite activities based on kids books. Like this craft? Make sure that you bookmark this page or pin an image so you don't forget about it.
Paper Plate Evil Pea
This craft is super easy to make and is based on the picture on the front cover of Supertato: Evil Pea Rules (which you'll be not at all surprised to learn we also own and love as well as the original book.) Start by painting a paper plate green, if you are out of paint you could colour it using green pens or tear some green tissue paper up and use that to cover your paper plate.
The eye mark is made from black card, pick a bit that's a bit wider than your paper plate so that once it's stuck down you can neaten up the edges if you want. As paper plates are obviously a bit rounded at the edge I've used double sided sellotape to hold the mask in place but if you're ok with it not sticking quite to the edges then normal school glue will be fine.
The eyes were cut out of some scrap white paper and glued on and then I've drawn in the eyeballs using a black pen. Finally the arms, legs and mouth have been cut out of green paper and stuck on but if you're child would prefer you could draw these on with a pen – felt tips can be a bit useless for drawing on painted surfaces so I normally go with paint pens like these instead. Your Evil Pea is now finished and ready to display with pride or wreck havoc on your other veggies – your call!
More Activities for Kids Books
Want more Supertato activities and crafts? Our round up here has loads of fun resources with printables, colouring pages and more.
The Scarecrows Wedding is another of our favourites and these paper bag puppets are good fun to make and play with.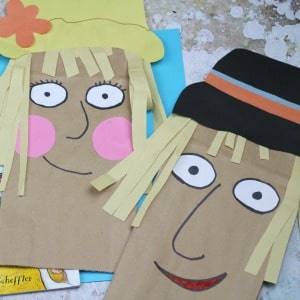 Finally why not make this The Snail and The Whale paper plate craft and let your whale swim across the paper plate ocean!