Whether your kids are learning about spring, harvest, farm animals or Old MacDonald's farm this free farm barn template is a great way to encourage their creativity.
There are two different designs that you can download and in addition to sharing some farm barn craft ideas you'll also find some of our free farm animal templates here.

What You'll Find on This Page
Farm Barn Template
Farms are a really popular subject with toddlers, preschoolers and kids in the early years of school – both in preschool classrooms and at home playing with farm toys.
This printable template has two different designs available in the PDF file, the first is a simple barn design while the second one has slightly more detail to the barn doors and window.
Farm Animal Templates
We have loads of free templates for kids crafts and activities. They're great if you want some simple coloring sheets or if you want something to base a craft project on.
With each template you'll always find ideas for ways that you can use them with your child.
Our free cow template has two different designs which you can download.
I love this cute lamb or sheep template, it's perfect for adding some cotton balls for a simple craft you can make at home or in classrooms.
This chick template has two different designs and is great for spring and easter crafts too.
Farm Barn Craft Ideas
Coloring – Coloring is always a great activity to do with children as it's so easy and quick to set up and it's something that people generally enjoy too. Just print out your template, grab crayons, markers or coloring pencils and you're ready to get started.
Mosaic – Mosaic crafts can be a great way to use up any scrap paper or old bits of colored construction paper that you have lying around. To make your paper barn craft all you need to do is cut your paper into shapes and then glue it on you your farm template to color it in. This is a great activity for practicing using scissors and for fine motor skills and you can use it as a way of discussing shapes too as you see what shapes you cut out of the paper and glue down.
Collage – Mosaic crafts are another one that are a great way to use up any loose materials that you have at home or in your classroom. Cover your barn template in glue and then add on any materials you have. In addition to colored paper we like fabric scraps, dried pasta, pom poms, free bark and leaves.
Playdough Mat – Place this template inside a clear plastic wallet to use it as a play doh mat. If you're in a preschool or kindergarten and are likely to want to use it again then it might be worth laminating it instead.
Farm Crafts For Kids
I made this easy chick craft with my daughter when she was in preschool. It was really good fun and the large painting materials make it perfect for little hands to create.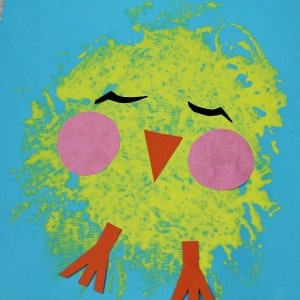 This paint splat sheep craft is another one that's good for younger kids because paint splats are so easy to make, plus there's something that I think is really fun about making them!
How To Get Your Free Printable Farm Barn Template
To get your free farm barn template just subscribe below in the box. We won't send you spam and you can unsubscribe at any time.
Once you've confirmed your email address your template will be delivered to your inbox as a free gift.
Please make sure to check ALL your email folders for the confirmation email and make sure you press the confirm subscription button.