All summer I'm joining in with some of my blogging friends to bring you some great crafts that you can do with your kids without spending silly amounts of cash! Our second challenge was to think of some fun things to make from a cardboard box and everyone got stuck in coming up with some cool ideas! I love cardboard box crafts because kids seem naturally drawn to wanting to play with empty boxes anyway and it helps me feel better that the boxes are getting another use rather than just being popped straight into the recycling. Plus it's cheap, did I mention that bit?!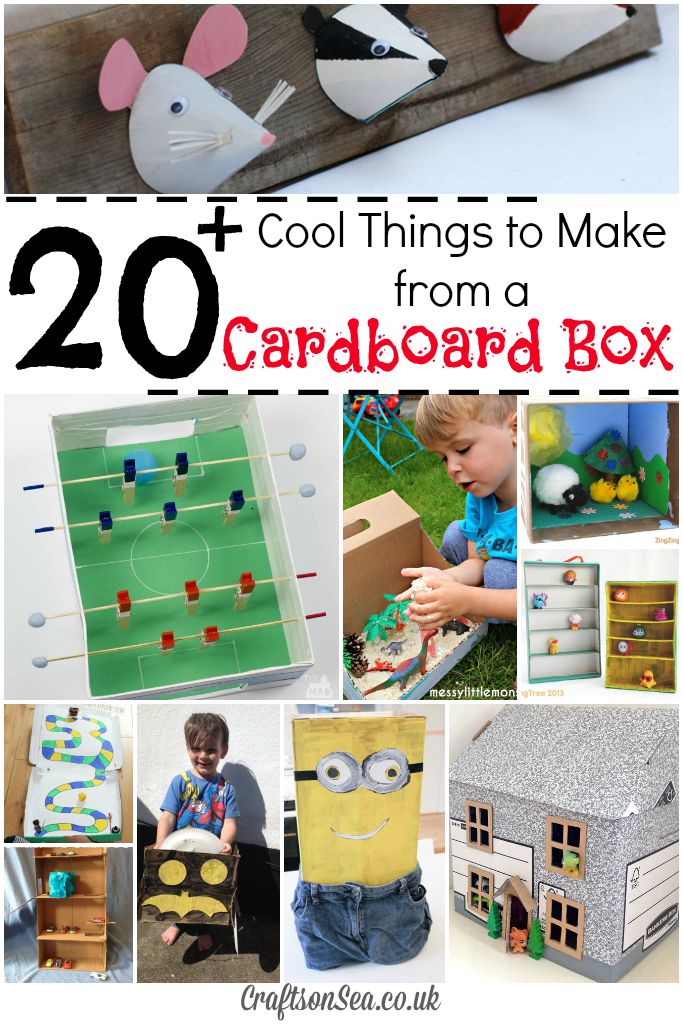 These woodland animals made from cereal boxes put a big smile on my face.
Jen from Mum In The Madhouse made this table football from a shoe box. Perfect for us as my kids appear to need new shoes every two weeks!
We love small world play and this dinosaur one with cloud dough from Messy Little Monster is awesome!
Ever made a story box? These look super cute!
Use an old shoe box to make some storage and show off your kids favourite toys.
How about making a board game in a pizza box?!
This cardboard parking garage looks like loads of fun.
Our obsession with superhero crafts continued as we made a Batmobile out of a cardboard box.
My son would love making this cardboard box Minion from In The Playroom
I love this townhouse that Anthea from Zing Zing Tree made for her kids toys.
How cool is this DIY marble maze made from a box?!
Anna has a great post of 10 things you can make from cardboard boxes including a laptop, a washing machine and a bus!
I think I might be a bit in love with the cardboard box dogs here?!