Summer is definitely the time for beach crafts and this easy paper plate beach craft is super simple for kids to make. It's also one that's good for allowing a bit of imagination – I've added a bucket and spade but what would your kids add? Maybe a picture of them on the beach, a seagull or a kite?
RELATED POSTS: Beach Crafts for Kids
We have included affiliate links to some of the products and resources and as an associate we may earn from qualifying purchases.
As well as instructions on how to make this paper plate beach craft you'll find more easy summer crafts at the end of this post. Like this craft? Make sure that you bookmark this page or pin an image so you've got it to hand when you're ready to make it or in need of a little inspiration.
What You'll Find on This Page
Paper Plate Beach Craft Materials
Paper Plate
Kids paints in blue and yellow/ gold
Paintbrush
Cupcake liner
Craft stick
Glue
Pen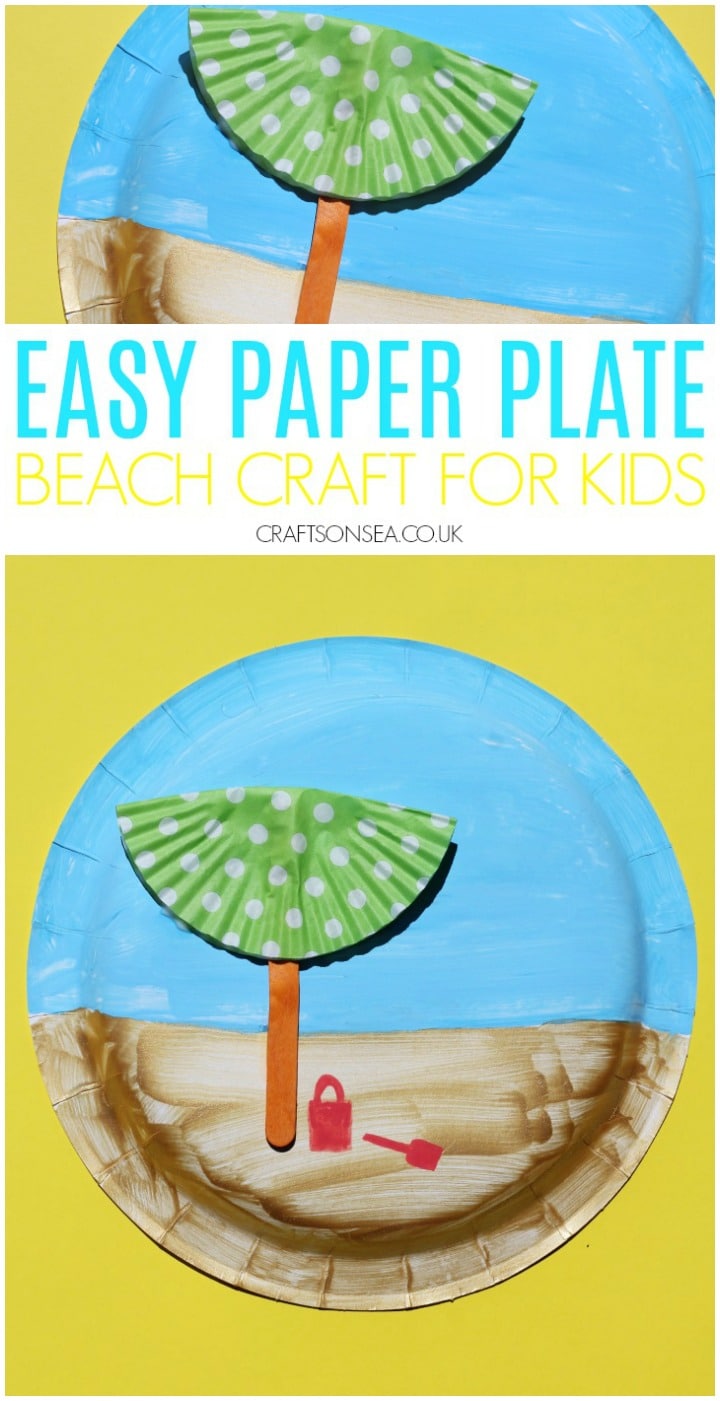 Beach Paper Plate Tutorial
Start with a paper plate and some paint, I've used a pale blue for the sky and gold paint for the sand but yellow would work just as well. You do need a bit of a steady hand for drawing the line that separates the two of them but it's hardly a big deal if the two colours do mix a bit.
Once the paint is dry you can add your decorations. To make the beach umbrella first stick down a craft stick and then fold in half a paper cake liner and stick that to the top to make the fabric part of the umbrella.
Pop some glue in the middle of the cupcake liner to stick the paper flat on the paper plate so it doesn't end up unfolding.
To draw on the paint I've used chalk markers as I find that normal felt tips generally won't work for this. These are the ones I use which we also use for making painted rocks.
And you're done! You could decorate with some beach themed stickers too or if you have some play-sand you could pop a bit of glue onto the beach area and add that on top to give it some texture.
More Summer Crafts for Kids
Make these cheerful butterfly suncatchers to hang in your windows.
Love camping? Us too and this foil painted campfire craft is super easy for kids to make.
This nature tree craft is perfect if you're about to mow the lawn – let the kids see how many daisies and buttercups they can pick first to decorate their trees with using our free printable.