This paper plate Easter wreath craft is so easy to make and is super cheerful too! I've designed it to be simple enough for toddlers and preschoolers but my six year old happily made one too so it's definitely a craft that you can do with school age kids too. What's more you can hang it up in their room afterwards to help cheer the place up!
I have included links to affiliate programmes in this post if you click on these and buy I may earn a small commission. Affiliate links in the text are marked with an asterisk.
What You'll Find on This Page
Easter Wreath Making
This Easter wreath has been painted but that's not the way my daughter made it, so if you don't fancy the mess of paints we've got options for you too!
I bought the stickers for this craft in The Works but there are lots of Easter stickers* at Amazon so you can order some to be delivered too.
We've got loads of ideas for easy Easter crafts for kids so make sure that you check out the links at the end of this post and be sure to bookmark or pin this post too so you don't forget about it.
How to Make a Paper Plate Wreath
Paper plate wreaths are a really simple craft that you can adapt for pretty much any time of the year with a couple of different coloured paints or bits for your child to stick on, but actually getting the paper plate itself ready will normally be a job for adults or at least for older kids. You'll need your paper plate, some scissors and some playdough or bluetack.
Put the playdough underneath the part of your Easter stickers* that you want to cut out and then push your scissors down through the plate into the playdough, protecting both yourself and the surface that you're using. Puck the paper plate back up and you can now cut out the centre of the plate leaving you with a wreath shape.
Easter Paper Plate Wreath
Make a simple Easter wreath craft that your kids can decorate.
Print
Pin
Rate
Materials
1

Paper plate

Easter stickers
Instructions
Cut out the centre of the paper plate following the instructions above - this part is definitely for the grown ups.

Paint the paper plate and leave it to dry.

Aff some Easter themed stickers to it and you are ready to display your artwork!
Notes
I've gone with paints for this craft but if you don't fancy the mess or want something that doesn't need to dry then go with felt tip pens instead. My daughter used these for her wreath and she was really happy with the way it looked.
Tried this?
Mention @craftsonsea - we'd love to see and maybe share it!
More Easy Easter Crafts for Kids
This easy chick craft is perfect for young kids with it's big painting material for them to hold.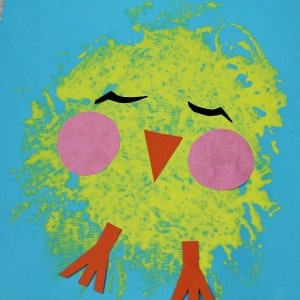 This foil painted Easter egg craft has a free printable with it for you to use too.
This sheep craft is really easy to make and you could use paper or a paper plate depending on what you have at home.