Bug and minibeasts are always popular topics in the spring and summer and our free ladybug template makes it easy for you to set up activities at home or in a classroom.
There are three different designs for you to choose from so you can chose the one that suits the activity you have in mind or take inspiration from our ladybug activities and craft projects.

RELATED POSTS – Free Templates for Kids Crafts
What You'll Find on This Page
Free Ladybug Template
The PDF for this template has three different printables in it. A blank template without eyes or spots so you can add your own or use it as a painting template. The second has eyes added and the final template has four spots on the ladybugs wings.
You can print as many copies as you like so it's perfect if you are working with a group or just fancy trying out a few ideas.
Ladybug Activity and Craft Ideas
Coloring Sheet
Use these printables as ladybug coloring pages for an activity that's super quick to set up, all you need to do is grab your coloring pencils, markers or crayons.
You could either color the template that shows the spots on the wings or add your own spots to the picture. This would be a great one to talk about numbers too as you can count how many your child draws.
Pom Pom Painting
You can use pom poms to paint either the whole of your ladybug or just to create it's spots. Pour some paint onto a plate and then dip a pom pom in it before dabbing it onto your template to color it.
This can be a little messy so if your child doesn't like getting paint on their fingers then you can use a clothes peg to hold onto the pom pom.
Cut Out Spots
Color your ladybug red and then using scissors cut out some black paper into circles which you can glue onto your ladybugs body.
Finger-painting
Pour some black paint onto a plate or tray and dip your fingers in it before dabbing it onto your ladybug to create its spots.
Tissue Paper
Glue red flat squares of tissue paper onto your ladybug to color in it's body and then take some pieces of black tissue paper and scrunch them into balls which you can then glue on.
Handprints
To make a handprint ladybug craft you will want to use one of the printable templates that doesn't already have the spots drawn onto it. Pour some red paint onto a plate or tray and then place your hands in it making sure that as much of the palms of your hands are covered as possible.
Carefully place your hands onto the template with the base of your hands by the ladybugs head and your fingers facing towards the back of it to make the ladybug's wings. Once the pint is dry you can add spots with a black marker pen.
Play Dough Mat
You could use these printables as playdoh mats coloring in the wings with red playdoh and adding some spots with black dough.
If you would like to use these more than once or with multiple children then I would recommend that you laminate them or pop them into a clear plastic wallet first.
More Ladybug Crafts for Kids
We made this ladybug paper plate craft to match with the story 'What The Ladybird Heard' by Julia Donaldson.
This easy ladybug craft is one that I did with my daughter when she was a toddler and uses cotton swabs (q-tips / cotton buds) to paint the dots.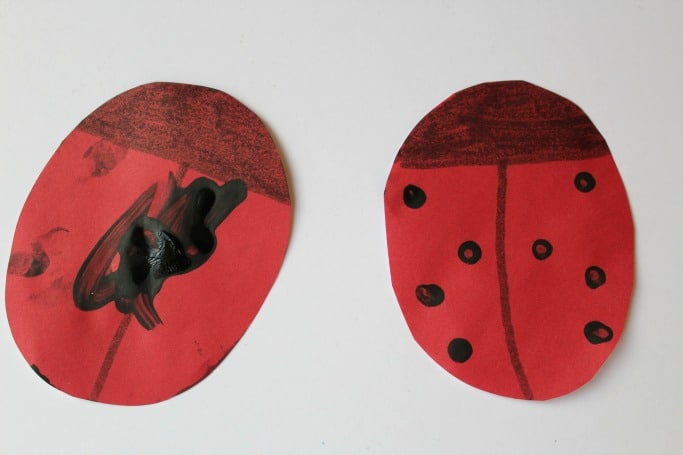 How To Get The Ladybug Printable Template
To get your free ladybug templates just subscribe below in the box. We won't send you spam and you can unsubscribe at any time.
Once you've confirmed your email address your template will be delivered to your inbox as a free gift.
Please make sure to check ALL your email folders for the confirmation email and make sure you press the confirm subscription button.